There is a good deal of history behind today's review of the Cooler Master HAF 500. When the MasterCase H500P launched in 2017 Dominic called it HAF (High Air Flow) as the heritage was clear. This became all the more apparent when the H500P gained a Mesh front panel in 2018 and shortly thereafter the H500M majored on the Glass and ARGB lighting aesthetic. And now we have the 'new' HAF 500 that resembles a budget version of, yes, MasterCase H500.
Watch video via Vimeo (below) or over on YouTube at 2160p HERE
Timestamps
00:00 Start
01:02 So what is the HAF500 all about?
03:04 Front I/O / storage
03:50 Removing the top panel
04:40 The hardware for the build
05:27 Putting the system together
07:57 Motherboard install / drive bay issues
09:44 Fans and cables / GPU install
10:33 AIO install
11:54 Leo's thoughts on results
14:35 Closing thoughts
Specification:
Motherboard support: E-ATX up to 310mm, ATX, Micro-ATX, Mini-ITX.
Power supply support: ATX.
Expansion slots: 7.
Included fans: 2x 200mm ARGB front, 1x 120mm HDD cage, 1x 120mm ARGB rear.
Fan mounts: 3x 120mm/2x 140mm front/2x 200mm, 3x 120mm/2x 140mm front/2x 200mm roof, 1x 120mm HDD cage, 1x 120mm rear.
Radiator mounts: 360mm/280mm front, 360mm/280mm roof, 120mm rear.
5.25-inch optical drive bays: None.
Internal drive bays: 2x 3.5-inch/2.5-inch, 2x 2.5-inch.
Front I/O ports: 2x USB 3.2 Gen 1 type-A, 1x USB 3.2 Gen 2 type-C, audio.
Dimensions: 510mm H x 516mm D x 224mm W.
The emphasis is on an open chassis design with plenty of potential for cooling air flow. We have seen this hardware a number of times and the only novel feature is the fan mounted on the drive tower.
Building our test PC looked like it would be straightforward as the removable top panel gives amazing access to the interior of the case. Unfortunately the interference between the mounts for the fan on the drive cage and our E-ATX motherboard slowed us down. You can see the details of this SNAFU in our video.
Thermal testing
To put this case through its cooling paces we will be using a test system consisting of an Intel Core i9-12900K, RTX 3080 and an SSD. This system allows us to produce a substantial amount of heat and effectively test the Cooler Master HAF 500's cooling capabilities.
Test PC
Processor: Intel Core i9-12900K (16 cores/24 threads)
CPU Cooler: MSI MEG CoreLiquid S360
Motherboard: Gigabyte Z690 Aorus Master
Memory: 32GB G.Skill Ripjaws S5 DDR5-5200
Graphics card: Sapphire Radeon RX 6800 XT 16GB
Power supply: Cooler Master MWE 750W Gold
SSD: PNY 1TB XLR8 M.2 NVMe
OS: Windows 11
Thermal testing overview
Our test PC was drawing 625W at the wall socket under load with both CPU and GPU working hard. Despite that the combination of Cooler Master HAF 500 and MSI MEG CoreLiquid S360 did a decent job of keeping the hardware under control. Ramping the fans to full speed yielded a clear benefit however the noise levels were intolerable. We found a fan speed around 50 percent delivered both good results and very low noise levels.
Closing Thoughts
The most frustrating aspect of the HAF 500 is the pretence that it is something new, when it is clearly a version of MasterCase H500.
Having said we would also happily see the removal of that daft additional fan mounted on the drive cage as it delivered no benefit in our test PC while causing a minor problem. Putting those two points to one side, the HAF 500 is a perfectly decent product. It functions well, the specification has no gaping holes and the price is quite acceptable.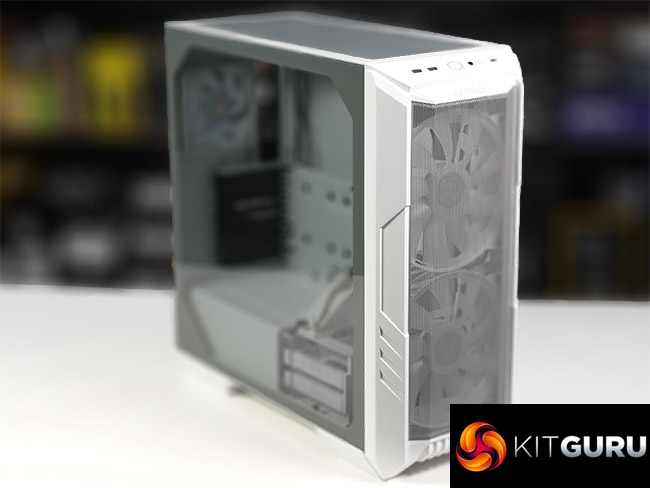 Clearly Cooler Master is looking for a cheap way to drum up interest in an elderly product so they cooked up a marketing scheme to leverage the trusted HAF name, and we think that makes perfect sense.
Indeed we said as much in 2017 when Cooler Master launched the MasterCase H500P, although we are a little sad it took them quite so long to come on board. If we reimagine the original MasterCase H500P as the HAF 500P then we can think of this case as HAF 500 Lite and everything falls into place.
We don't yet have a buy link but we have been told to expect the Cooler Master HAF 500 on sale for £139.99.
Discuss on our Facebook page HERE.
Pros:
Top panel gives excellent access to the interior.
Air flow delivers on the HAF promise.
ARGB and PWM fan hub.
Cons:
GPU fan mount clashes with E-ATX motherboards.
Front panel clips are awkward to reach.
RGB in fans is rather basic.
Design looks tired and dated.
Cable management is uninspired.
KitGuru says: Renaming MasterCase H500 as HAF 500 looks like a non-too-subtle way of extending its life for another year or two.
Be sure to check out our sponsors store EKWB here