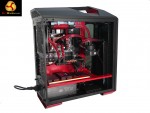 Cooler Master MasterCase Maker 5t (the 't' stands for Turbo) can trace its heritage directly from the original MasterCase 5 via the Pro 5 to the Maker 5. The most obvious visual change to previous models is the addition of glass panels on both side of the case. Maker 5 came with an acrylic window on the main side, although you had the option of buying a glass panel at a cost of £35. The inclusion of two glass panels on the more expensive Maker 5t appears to offer better better value for money.
With the glass removed you can see the chassis has had a bit of a paint job to distinguish it from the regular Maker 5. The basic colour is black and the motherboard tray and chassis divider have been picked out in sparkly red.
A number of features have been carried over from Maker 5, including the rather basic fan and LED control unit on the rear of the motherboard tray. One significant change for Maker 5t is the addition of a carry handle on the top. This is a hefty piece of hardware that allows you to carry the best part of 30kg.
On the other hand it necessarily has an impact on airflow at the top of the case and means you have to remove an extra handful of screws to gain access to the roof of the case. Cooler Master has also included its MasterCase M-Port graphics card holder which plugs into the securing holes used by the drives towers and supports the weight of a beefy graphics card, or two.
Specification:
Motherboard support: ATX, Micro-ATX, Mini-ITX.
Expansion slots: 7.
Included fans: 2x 140mm front intake, 1x 140mm rear exhaust.
Fan mounts: 3x 120/140mm front, 2x 120/140mm roof, 1x 120/140mm rear.
120mm radiator mounts: 120mm/240mm front, 120mm/240mm roof, 120mm rear.
140mm radiator mounts: 140mm/280mm front, 140mm/280mm roof, 140mm rear.
5.25″ drive bays: 2
Internal drive bays: 2x 3.5"/2.5″, 2x 3.5"
Dimensions: 574mm H x 542mm D x 242mm W.
When KitGuru first reviewed the MasterCase 5/Pro5 we used an All In One liquid cooler as that seemed the most likely scenario for the typical owner. For the Maker 5 review we went with a Cooler Master tower air cooler to give a bit of variety. With the Maker 5t we have gone all the way with a custom loop as it looks good and delivers the best cooling but as you will see in our video it wasn't all plain sailing.
Installing the motherboard was easy enough but the radiator, pump and reservoir all caused issues in their own ways. The problem with the radiator is that Cooler Master uses a series of female threads on the front panel which in turn makes it awkward to simply install the radiator wherever you may choose. The pump and reservoir suffer from the usual problem as the manufacturer hasn't seen fit to indicate an obvious position where they should be located.
The only conclusion we can draw is that Cooler Master doesn't really want you to install a custom loop in the Maker 5t, which in turn means those glass panels will be displaying something relatively unimpressive.
It's a crying shame as the Maker 5t puts a huge emphasis on style and appearance yet when you try to play your part and bring your A game they place obstacles in your way.
Testing
To put this case through its cooling paces we will be using a test system consisting of an Intel Core i7-5802K, a GTX 980 graphics card and an SSD. This system allows us to produce a substantial amount of heat and effectively test the Cooler Master MasterCase Maker 5t's cooling capabilities.
For stress testing we use AIDA64 to create the maximum heat output to stress our CPU and GPU.
Test System:
Processor: 3.3GHz/3.6GHz Intel Core i7-5820K
Motherboard: EVGA X99 Micro 2
CPU cooler: Custom loop – Alphacool and EKWB
Memory: 32GB G.Skill TridentZ DDR4-3200MHz
Graphics card: GeForce GTX 980 4GB
Power supply: Cooler Master MasterWatt Maker 1200W
Storage drives: SanDisk Extreme II SSD
Operating System: Windows 10
Cooling Performance.
We tested the Cooler Master Maker 5t using the stock Cooler Master fans, just to keep things simple, as the mounts at the front of the case clearly work with the stock fans. We generally use EK Vardars which are superb at pushing air through radiators so we expected to the Maker 5t taking a minor hit when it came to cooling performance.
This was indeed the case as the cooling figures are pretty good yet a significant six or seven degrees higher than the Aerocoool P7-C1 using very similar hardware.
Cooler Master MasterCase is an excellent chassis for cooling and the Maker 5t performs well but it would be even better if it was easier to install our desired hardware.
Acoustics performance.
You don't get much in the way of noise deadening material in this case however the solid construction and two chunky glass panels do a reasonable job of containing the noise. The MasterCase 5t is more about air flow and styling than dead silence and the acoustic performance was entirely satisfactory.
Closing Thoughts.
We love the look of the Cooler Master MasterCase Maker 5t and continue to be impressed by the concept that MasterCase cases can be modified and changed to an impressive degree. The problem we had with Maker 5 and now with Maker 5t is that the emphasis is on styling yet the underlying chassis is not well suited to custom loop cooling.
This was fine when we used Master Case 5 and Pro 5 with air cooling or an All In One but it went off the rails with Maker 5. What, exactly, do you want to see behind that impressive accessory glass panel? Something pretty and ideally something exotic!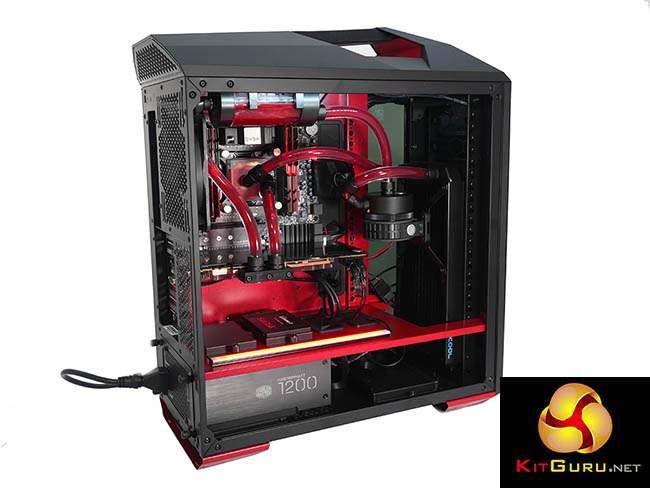 The Maker 5t comes with two glass panels as standard and the question about cosmetic appearance moves to front of the queue and while we are happy with our finished PC we didn't much enjoy the work that it involved.
As things stand we do not have a satisfactory answer about the type of PC we want to build inside Maker 5t, and that causes us some problems when you consider the high cost of this case.
Until we can resolve that issue we continue to recommend the Pro 5 over the more exotic Maker 5 or 5t.

Buy from Overclockers UK for £229.99 inc vat HERE.
Discuss on our Facebook page, over HERE.
Pros:
The two glass panels have been superbly manufactured.
Carry handle is impressively sturdy.
Decent air flow.
Black and red styling is very smart.
Cons:
Installing custom loop cooling is an uphill struggle.
Fan and light management is very basic.
No support for E-ATX
High price.
Locking side panels are fiddly.
Four USB 3.0 ports on I/O require two headers on your motherboard.
KitGuru says: The Cooler Master MasterCase Maker 5t looks superb but you have to work hard to build an exotic PC.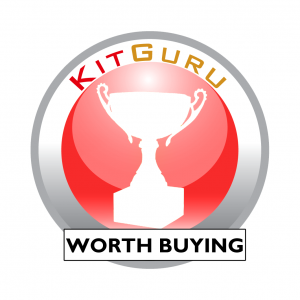 Be sure to check out our sponsors store EKWB here