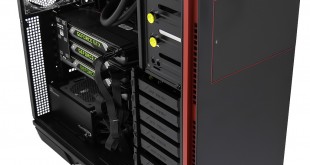 So you're looking for a full E-ATX tower case for your next PC? Well step right this way as In-Win is offering the 707 Gaming Black and its closely related cousin the Silent White. The In-Win 707 Gaming Black is actually dark grey in colour, gun metal perhaps, or charcoal, with a smart front panel that looks modern and minimalist along with an attractive smoked window in the main side panel.
Inside the case you'll find three optical drive bays behind a stealth door and eight 2.5-inch/3.5-inch drive bays in a tall tower. In-Win supplies two 140mm fans at the front and one 140mm fan at the rear, however there are plenty of options for adding more fans. You can install one behind the drive tower, one or two in the floor of the case, one in the side panel and as many as three fans in the roof.
Watch via our VIMEO Channel (Below) or over on YouTube

HERE
That's an impressive list of features however there are some negative points to mention. The fans in the roof of the case are measured in 120mm units and the mounts will not accept a 140mm or 280mm radiator and there is something a bit curious about the three case fans. The two fans at the front each have a three-pin motherboard connector while the fan at the rear has a four-pin Molex connector.
There are some oddities such as the absence of a dedicated SSD bay (or two) and the fact that In-Win has only provided eight screws for mounting 2.5-inch drives in those drive caddies.
Assembling your hardware inside this huge case poses very few problems and there is a fair amount of space for cable management and keeping things tidy.
Specification:
Motherboard support: E-ATX, ATX, Micro-ATX.
Expansion slots: 8.
Included fans: 2x 140mm front intake, 1x 140mm rear exhaust.
Fan mounts: 3x 120mm roof, 1x 120/140mm side, 1x 120/140mm HDD, 2x 120/140mm floor.
120mm radiator mounts: 120mm/240mm/360mm roof, 120mm/240mm floor.
5.25″ drive bays: 3
Internal drive bays: 8x 3.5, 5×2.5″.
Dimensions: 532mm H x 582mm D x 243mm W.
Testing
To put this case through its cooling paces we will be using a test system consisting of an Intel Core i7-5960X and three GTX 980 graphics cards. This system allows us to produce a substantial amount of heat and effectively test the In-Win 707 Gaming Black's cooling capabilities.
For stress testing we use a mixture of Prime95 and FurMark to create the maximum heat output. Prime95′s 'Small FFTs' setting allows us to stress our CPU. FurMark's 'GPU Burn-in' mode creates the maximum amount of load our GPU is ever likely to see.
Test System:
Processor: Intel Core i7-5960X 3.00GHz
Motherboard: Gigabyte X99-UD4
CPU cooler: Corsair H100i
Memory: 16GB Corsair Vengeance LPX DDR4-2800MHz
Graphics card: Triple GTX 980 4GB 1127MHz/7010MHz
Power supply: Seasonic Platinum 1200W
Storage drives: SanDisk Extreme Pro SSD
OS: Windows 8.1 Professional 64-bit.
Cooling Performance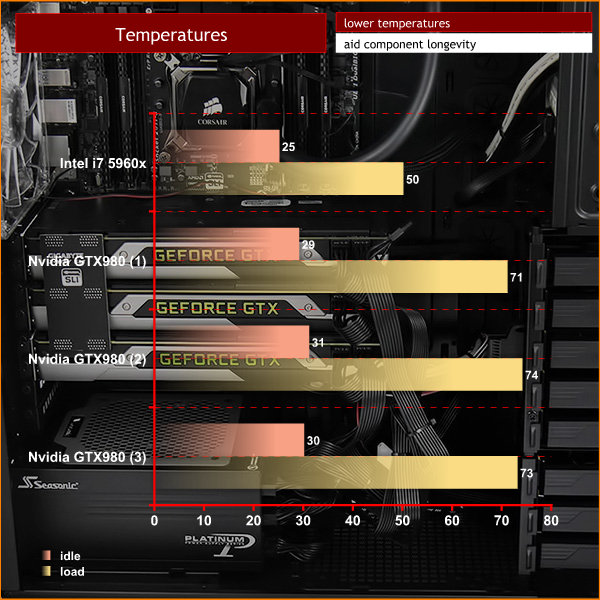 This is a large case with stacks of air flow. The two fans at the front and the exhaust fan at the rear are all that you need, however you can add more cooling with ease. As we demonstrate with a Core i7 Extreme and three GTX 980 graphics cards, you'll have no problem keeping your hardware under control.
Our only significant gripe on this score is that you cannot mount a 140mm or 280mm radiator in the roof of the case. Although In-Win doesn't provide removable filters, the mesh panels should do a competent job of catching dust and other nasties.
Acoustics Performance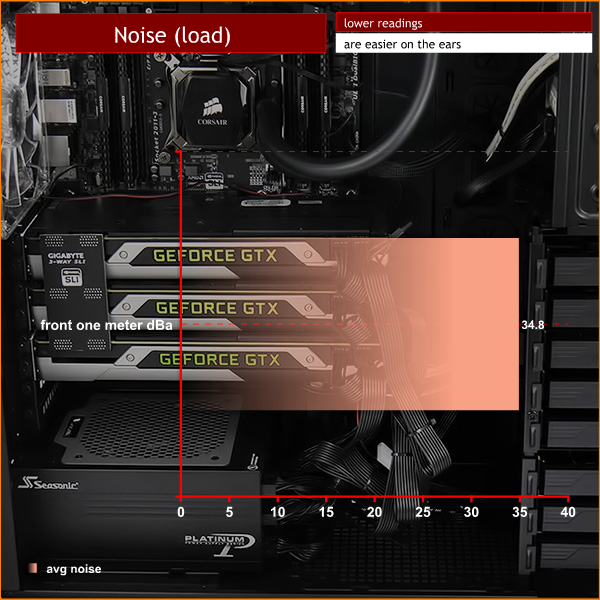 In-Win has made no visible effort to reduce noise levels – that's why they also offer the Silent White – and this means the 707 Gaming Black has the potential to get rather noisy.
If you stick with the standard 140mm fans you'll have no problems as the fans turn quite slowly but adding extra fans could give you that familiar roaring sound.
Closing Thoughts
We like the styling of the In-Win 707 Gaming Black and you certainly get a large case for the price, however it isn't especially sophisticated and the steel work feels rather flimsy. Those eight drive bays are a dominant feature but despite that you still have plenty of space so building your new PC is quite easy.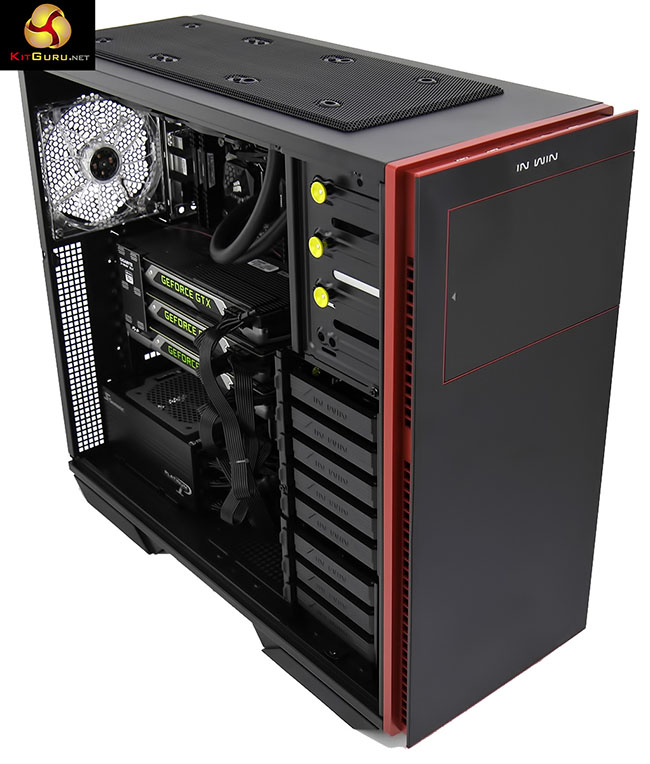 While we cannot claim to have fallen in love with the 707 it does a competent job and offers reasonable value for money.
Buy from BOX for £94.97 inc vat HERE. Each 707 from Box ships with a free In-Win BatMat worth £26.99.
Discuss on our Facebook page, over HERE.
Pros:
Supports E-ATX form factor
Smart front panel and smoked window.
Priced under £100
Three optical drive bay behind a stealth door.
Loads of space inside.
Comes with three 140mm case fans.
Eight drive bays.
Cons:
Steel work feels a bit flexible and flimsy.
Painted finish gets marked quite easily.
No dedicated 2.5-inch drive bays.
You only get enough screws to mount two 2.5-inch drives in the caddies.
Top fan mounts are in units of 120mm so you cannot use a 140mm or 280mm radiator.
The 140mm fan at the rear is powered by a four-pin Molex connector rather than a three-pin header connection.
KitGuru says: We like the styling of the InWin 707 and feel this E-ATX case does a very fair job.