My PC build to show off the new EK Quantum Magnitude CPU block looked the business however in the comments we saw a certain level of criticism about the thermals in the SilverStone Seta A1 case. While the airflow through the front panel had to make some twists and turns, we weren't faced with an impossible situation where the air was trying to pass through a solid piece of tempered glass, so what the heck was going on? You had thrown down the challenge and it was time for KitGuru to respond. 
Watch the video via our VIMEO Channel (Below) or over on YouTube at 2160p HERE
Test system
Case: SilverStone Seta A1
CPU: AMD Ryzen 9 3900X
Motherboard: Gigabyte X570 Aorus Elite
Memory: 32GB G.Skill TridentZ Neo DDR4-3600MHz
Graphics: Nvidia RTX 2080 8GB GDDR5
SSD: 240GB Toshiba RC100 M.2 NVMe
Power Supply: SilverStone ST85F-GS Gold 850W
Note: if the above images are not displaying properly, you may need to disable Ad Block as it is known to interfere with our display code
The principle behind our thermal testing was based on our review of the Zalman CNPS20X. We locked our AMD Ryzen 9 3900X at 4.1GHz on all cores in the BIOS of our Gigabyte X570 Aorus Elite with 1.304V Vcore and set the LLC to Normal which resulted in a core voltage of 1.256V under load. SoC voltage was locked at 1.10V and we saw a consistent CPU package power draw of 150W.
One big change from the Zalman cooler testing is that we switched from an open test bench to the SilverStone Seta A1 case but another significant difference is that we were also stressing the RTX 2080 Founders Edition graphics card alongside the CPU. System power draw at the wall socket sat in the range 450W-470W with 190W-200W going to the graphics. You can rest assured we were giving the Seta A1 a severe test to figure out what the heck was going on with the thermals.
Custom Loop Cooling
Pump/Reservoir: EKWB Quantum Kinetic FLT 240 DDC PWM D-RGB Plexi
Rear Reservoir: EKWB Quantum Volume FLT 120 D-RGB
CPU Block: EKWB Quantum Magnitude D-RGB AM4 Nickel Plexi
Radiator: EKWB CoolStream SE 360
Case fans: Noctua NF-F12 PWM
Fittings: EKWB Torque HTC-16 with red accent rings
Tube: EKWB HD PETG 12/16mm
Coolant: EKWB CryoFuel Solid Azure Blue
For the first set of test runs we used the same custom loop cooling hardware you saw in the SilverStone/EK show case with a couple of minor changes.
We added an NZXT GRID+ fan controller and connected the two front SilverStone 200mm fans (model ZT20025L12S) that are supplied with the Seta A1 so we could lock them at full speed which is a nominal 800rpm. We also swapped the two EK Vardar EVO fans in the roof of the case for slower Noctua NF-F12 PWM models that we could run at a steady 1,000rpm and found our figures were consistent with the series of tests we ran the previous week.
Now it was time for the big reveal. Our plan was to pretty much dismantle the PC and remove the EK Quantum Kinetic 240mm pump/reservoir from the 360mm radiator at the front of the case and then replace it with a DDC pump. For the subsequent stages of our testing we lined up the following hardware:
Pump: EK-XTOP DDC 3.2 PWM Elite
Fittings: EK-Torque STC-10/13 with red accent rings
Fans:
Noctua NF-F12 PWM 1,500rpm
Noctua NF-F12 PWM Chromax 1,500rpm
EK Vardar EVO 120ER RGB 2,200rpm
EK Furious Meltemi 120 3,500rpm
We replaced the Kinetic pump/reservoir with a DDC 3.2 PWM pump on a bracket and swapped out the 16mm hard tubing for 10/13mm soft tubing that would allow us to remove and replace components more easily. We fully expected this change would unblock airflow and allow the case to breath correctly. As you will have seen in our video this work yielded a disappointing result as temperatures did not change in the slightest.
The next step was to replace the two SilverStone 200mm fans at the front of the case with three 120mm Noctua NF-F12 PWM Chromax fans. We now had five NF-F12s in total and setting them all at 1,000rpm again made no difference to our CPU temperature.
Increasing the speed of the Noctuas from 1,000rpm to 1,500rpm helped temperatures significantly and delivered the best balance we had seen of air flow, noise levels and CPU temperature.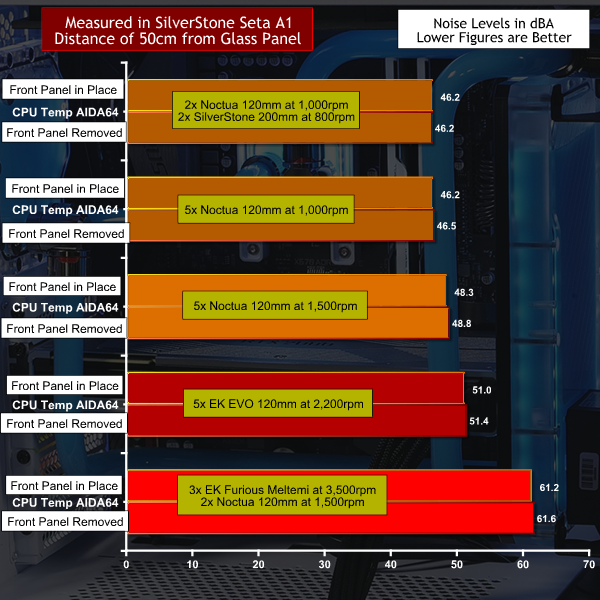 After that we swapped the five Noctuas for five EK Vardar EVO fans running at 2,200rpm (they actually ran at 2,000rpm) and once again we saw no change in temperatures.
For our final effort we installed three EK Furious Meltemi fans which are 37.5mm thick and have a maximum speed of 3,500rpm. We also installed two Noctua NF-F12 fans and cranked all five fans to their maximum speed. The cooling results were impressive however the noise levels were outrageous.
Closing Thoughts.
As you will have seen in our video we drove down the temperature of our Ryzen 9 3900X CPU in AIDA64 by a significant 15 degrees Celsius. More importantly (to our mind) we reduced the Delta between Front Panel On and Front Panel Removed from 15 degrees to 5 degrees. If you pack in the fans and crank up the speed you will see the front panel becomes almost irrelevant and the SilverStone Seta A1 behaves in a way you are unlikely to have predicted. As you will have also seen – and heard – the noise levels of the EK Furious Meltemi fans is completely unacceptable in a regular PC.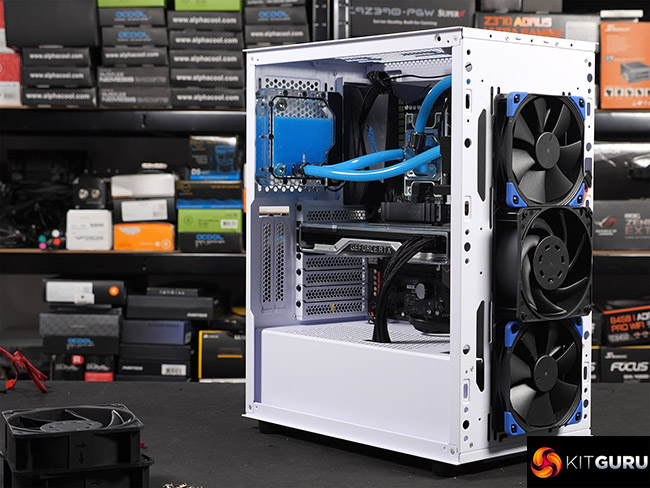 Our conclusion is that the sweet spot of performance vs. noise levels was delivered by the five Noctua NF-F12 fans operating at 1,500rpm. The results were satisfactory and the noise levels were impressively low.
KitGuru says: We put in the hours on this one and look forward to reading your comments below the video.