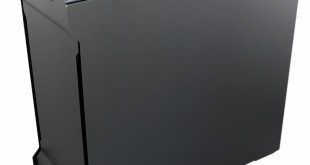 Phanteks has delivered the latest version of its aluminium Evolv chassis in a mainstream ATX form factor that stands a compact 495mm high and 510mm deep. It is notably smaller than, say, the Enthoo Pro which is also ATX. Pull off the aluminium front panel, release the full length dust filter, lift off the tool-free side panels and you reveal a steel chassis that is familiar from previous Phanteks cases however there are a few details that are new.
On the other hand the sliding rail that carries the mounts for a radiator in the roof of the case is a straight carry over from the Enthoo Evolv ITX. In the smaller ITX chassis it was a necessity as the roof of the case is fixed in place and there isn't much access from the inside of such a small chassis. This ATX version has significantly more space and it isn't especially difficult to install a radiator however we all appreciate a bit of help so the rail is a nice touch.
Specification:
Motherboard support: ATX, Micro-ATX, Mini-ITX (and E-ATX up to 264mm wide)
 Expansion slots: 7.
Included fans: 2x 140mm front intake, 1x 140mm rear exhaust.
Fan mounts: 3x 120mm front, 3x 120mm or 2x 140mm roof, 1x 120mm rear.
120mm radiator mounts: 120mm/240mm/360mm front, 120mm/240mm/360mm roof, 120mm rear.
140mm radiator mounts: 140mm/280mm front, 140mm/280mm roof, 140mm rear.
5.25″ drive bays: None.
Internal drive bays: 5x 3.5, 7×2.5″.
Dimensions: 495mm H x 510mm D x 235mm W.
Things get more interesting when we turn to the drive bays. As you will see in the video there are two 2.5-inch/3.5-inch caddies in the covered compartment at the bottom of the case, a 2.5-inch mount inside the window of the side panel, two more 2.5-inch mounts behind the motherboard tray and no less than five attachment points for drive mounts. There are three of these open metal holders in the accessory pack that can attach in any of the five positions, depending on the other cooling components you install in the system.
Remove the lower drive bays along with the mounting hardware and also remove the hatch cover that opens the lower compartment into the main chamber of the case and suddenly you have a huge vertical space behind the pair of 140mm intake fans where you can mount a pump/reservoir unit. Phanteks includes its usual pump mount in the accessory pack.
If you want to install an All In One it is easy to slip a radiator up to 360mm in the front or roof of the case. We tested the Evolv ATX with a 280mm Corsair H110i GT and it went in without any trouble at all. The same was true of our beefy Sapphire R9 290 Tri-X graphics card. One feature of note is a six-way PWM hub on the rear of the motherboard tray. The two front fans and one rear fan are already connected so there are spaces for three more fans, which should prove more than adequate.
Testing
To put this case through its cooling paces we will be using a test system consisting of an Intel Core i7-4770K, Radeon R9 290 and an SSD storage drive. This system allows us to produce a substantial amount of heat and effectively test the Phanteks Enthoo Evolv ATX's cooling capabilities.
For stress testing we use a mixture of AIDA64 and FurMark to create the maximum heat output. AIDA64 allows us to stress our CPU and FurMark's 'GPU Burn-in' mode creates the maximum amount of load our GPU is ever likely to see.
Test System:
Processor: 3.9GHz Intel Core i7-4770K
Motherboard: ASRock Z97 Killer
CPU cooler: Corsair H110i GT
Memory: Corsair Vengeance LP DDR3-1600MHz RAM
Graphics card: Sapphire Tri-X R9 290
Power supply: Seasonic Platinum Fanless 520W
Storage drives: SanDisk Extreme Pro SSD
OS: Windows 8.1 64-bit.
Cooling Performance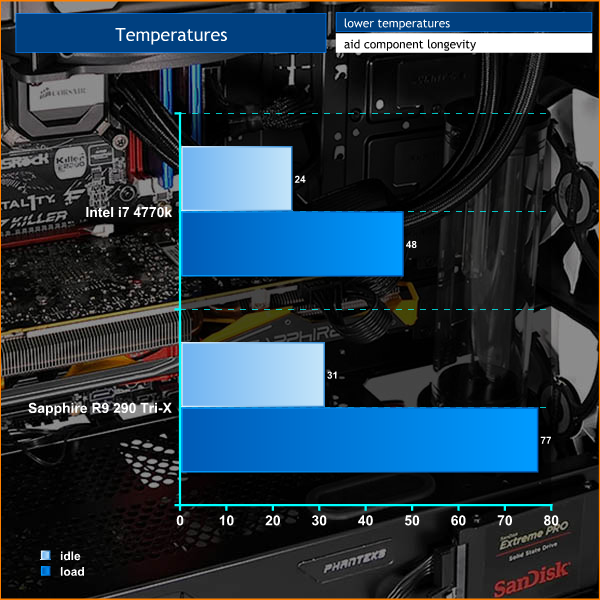 The Evolv ATX is fairly small but has enough space inside to flow plenty of air. It is nicely filtered at the front and by the power supply, and the exhaust vents play their part and allow hot air to leave. Although the Evolv ATX appears to be hermetically sealed it is actually free flowing and the cooling works very nicely.
Acoustics Performance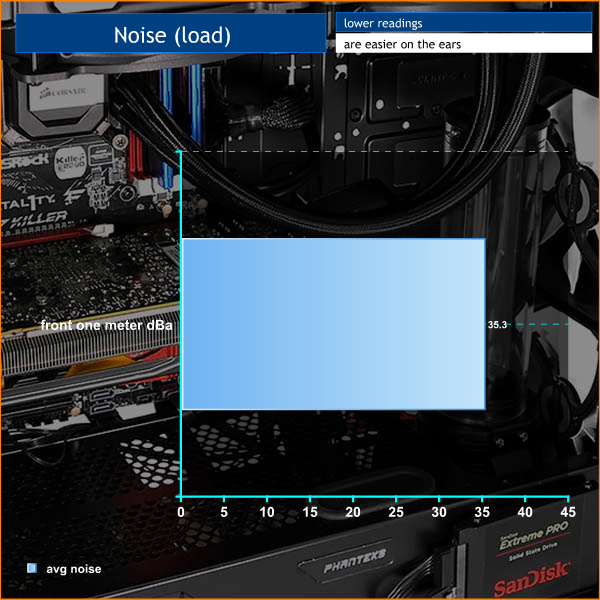 The baffled intake slots and discrete exhaust vents mean this aluminium case is considerably quieter than you might expect if your previous experiences date from some years ago. There were no rattles or panel buzz and the sound of air flow was audible but not intrusive.
Closing Thoughts
We like the Phanteks Enthoo Evolv ATX and are impressed by its list of features. The way you can pack in a load of cooling and move the drive bays around is little short of amazing. Added to that the power supply cover and lower compartment mean it is really easy to hide your cabling without spending hours tidying things up.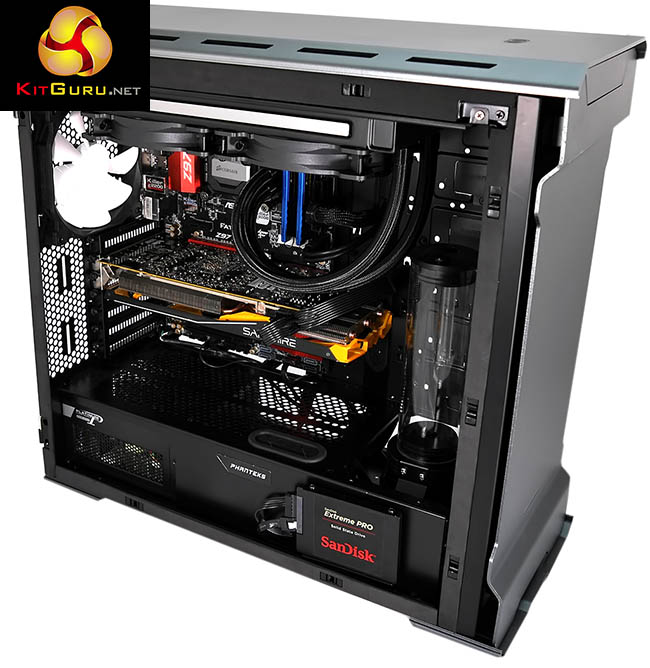 From a technical point of view the Evolv ATX is a success, however you pay a significant premium for those aluminium panels. If it was less than £100 it would be an undeniable success but the £140 price tag means our judgement is more qualified. If you love the styling then the decision is easy. On the other hand if you are not sure about the looks you will probably decide to check out alternatives.



You can buy from Overclockers UK for £139.99 inc vat HERE.
Discuss on our Facebook page, over HERE.

Pros:
Smart styling.
Tool-free front panel and side covers.
Huge window in the main panel.
Supplied with three 140mm fans.
Huge dust filter at the front of the chassis.
Heaps of options for liquid cooling.
Six-way PWM hub.
Good cable management including Hook and Loop straps.
Impressive array of drive bays.
Clever baffled air flow reduces noise levels.
Comprehensive pack of accessories.
Superb user guide.
Cons:
The cost of the aluminium panels is significant.
You have to switch LEDs to change the colour of the front light.
Minimal use of noise deadening materials which might make it even quieter.
Very few cable tie points.
KitGuru says: A well built, premium case that will accommodate a lot of high end hardware, and keep it cool in the process.