When we reviewed Seasonic's first case, the Syncro Q704, we were dealing with an inverted layout and a radical new type of power supply system named Connect. In this review we are looking at the Seasonic Arch Q503 with Connect DGC-750, which is a conventional mid-tower case that supports Seasonic's innovative Connect system and is likely to have a broader appeal.

Timestamps
00:00 Start
00:47 The Arch Q503
02:40 Storage/ fans / radiator / motherboard support
03:27 Connect Power Supply – pricing and versions
04:58 The idea of Connect
05:36 The cables
05:56 The build in the Q503
07:07 Noise testing
07:39 Cooling performance testing
08:19 Leo's closing thoughts
Main features
Compatibility with Seasonic Connect for ultimate cable management
Stylish tempered glass side panels on both sides
Sturdy steel plate (0.7 mm) construction for durability and noise dampening
Pre-installed 120 mm fans (two in the front and one in the back)
Captive thumb screws to prevent them from getting lost
Easy access to control buttons and connectors (USB Type-C included)
Specification:
Motherboard support: E-ATX up to 277mm, ATX, Micro-ATX, Mini-ITX.
Power supply support: ATX up to 230mm.
Expansion slots: 7.
Included fans: 2x 120mm front intake, 1x 120mm rear exhaust.
Fan mounts: 3x 120mm/2x 140mm front, 2x 120/140mm roof, 1x 120mm rear, 2x 120mm on PSU shroud.
Radiator mounts: 360mm/280mm front, 240mm/280mm roof, 120mm rear.
5.25-inch optical drive bays: None.
Internal drive bays: 1x 3.5-inch/2.5-inch, 1x 3.5-inch plus 1x 3.5-inch or 2x 2.5-inch.
Front I/O ports: 2x USB 3.0 Type-A, 1x USB 3.1 Gen 2 Type-C, audio jacks.
Dimensions: 482mm H x 448mm D x 215mm W.
Testing
To put this case through its cooling paces we will be using a test system consisting of an Intel Core i9-11900K, Radeon RX 6800 XT and an SSD. This system allows us to produce a substantial amount of heat and effectively test the Seasonic Arch Q503 's cooling capabilities.
Test System:
Processor: Intel Core i9-11900K (8 cores/16 threads)
CPU Cooler: Noctua NH-D15 chromax.black
Motherboard: NZXT N7 Z590
Memory: 16GB Patriot Viper Steel RGB DDR4-3200MHz
Graphics card: Sapphire Radeon RX6800 XT 16GB
Power supply: Seasonic Connect DGC-750
SSD: Sabrent Rocket 4.0 M.2 NVMe
OS: Windows 11
Cooling Performance
Cooling Performance Overview
The Seasonic Arch Q503 struggles slightly with a fully loaded Core i9-11900K and RX6800 XT pulling a total power draw of 600W. We have little doubt the front panel is restrictive but also feel confident that gamers will find their Connect PC behaves perfectly well.
Closing Thoughts
The Seasonic Arch Q503 with Connect DGC-750 is a package that combines a fairly average mid-tower case with Seasonic's Connect power system.
You pay a fairly steep price for this innovation and in return you get a cleaner PC build. You should not expect to gain extra performance and are unlikely to see improved temperatures from the cleaner airflow. The benefit you will derive is the satisfaction of cleaning up those ugly runs of cables that get in the way and clutter up the typical PC.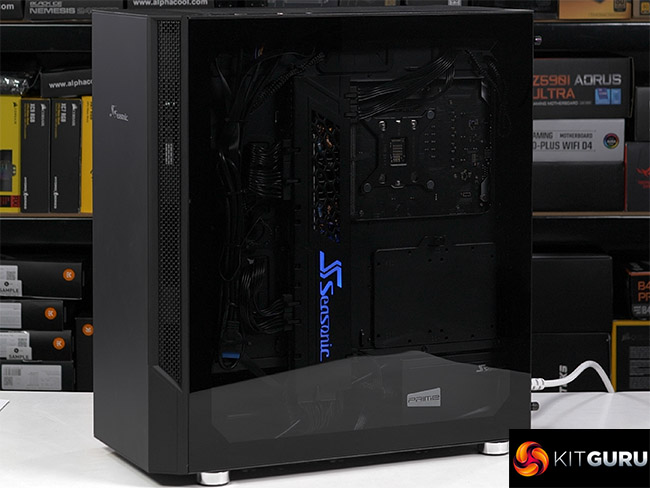 The way we see it is that the sort of person who will buy the Arch Q503 is the type who cares about 80 Plus ratings and will consider a Gold rated PSU to be the absolute minimum they would consider. You have no idea how frequently KitGuru is offered PCs for review that come with a Bronze power supply and that anguish that causes.
If you feel the same way then you too will appreciate the Seasonic Arch Q503 with Connect while many others will not have the first clue what we are banging on about.
You can buy the Arch Q503 with Connect DGC-750 for £255.90.
Discuss on our Facebook page HERE.
Pros:
Seasonic Connect is innovative and interesting.
The glass panels are dark but not too dark.
Finished build looks smart and understated.
Good support for a range of cooling.
Front I/O includes USB Type-C.
Cons:
The front panel is restrictive – Core i9 was a bit ambitious in this case!
The price of the case and Connect package is understandably high.
KitGuru says: We applaud Seasonic for bringing innovation to the case and power supply market.
Be sure to check out our sponsors store EKWB here