The Obsidian is a mid-tower ATX case from Game Max, and at a price of £50 it is definitely targeted towards the budget end of the market. There are many budget options out there but let us see how the Obsidian holds up.
Watch via our VIMEO Channel (Below) or over on YouTube at 2160p HERE
Motherboard support: ATX, Micro-ATX, Mini-ITX
CPU Cooler Clearance: 170mm height.
GPU Support: 360mm length.
Expansion slots: 7.
Included fans: 1 x 120mm rear
Fan mounts: 3x 120mm/2x 140mm front, 2x 120/140mm roof, 1x 120mm/140mm rear.
Radiator mounts: up to 280mm front, up to 280 roof, up to 140mm rear.
5.25″ drive bays: 0.
Internal drive bays: 2 x 2.5″/ 2x 3.5″ psu shroud, 2 x 2.5″ behind motherboard and 3 x 2.5″/ 3 x 3.5″ HDD cage.
Dimensions: 220 x 470 x 416 (WxHxD mm).
The overall look of the chassis is very basic yet I feel rather elegant. There is no front I/O, no optical drive cut-outs and no visible fans or vents which we have seen on other cases on the market recently.
Instead the intake vents are moved to the sides of the front panel. This is not necessarily a bad thing if you like a minimalist look. If you hate loud, 'in your face' gaming PC cases then this is certainly going to be a selling point.
The front panel is made out of plastic which isn't a surprise for a case at this price and its worth pointing out that the rest of the chassis is made out of steel.
At the top of the front panel we see the front I/O which includes 4 USB ports, audio jacks and a power and reset switch. There is also a fan control switch which I will get into a bit later. Also at the top there are ventilation and radiator/ fan mounting holes which can be slightly concealed using a magnetic dust filter.
There is another dust filter of the same nature located behind the front panel.  When we move to the bottom of the case we find another welcome dust filter which supports the power supply. It is great to see so many dust filters supplied with a budget chassis.
Another positive thing to mention are the metal feet which are very secure. It sounds like a unusual thing to mention but we have seen some expensive cases which have actually shipped with shoddy feet placements – which move around enough to raise an eyebrow or two.
There is an acrylic window on the side panel which is centred rather than spanning the entire side. It offers a decent view of the hardware and is very clear, as it is not tinted. You won't have to light the case up like a Christmas tree to get view of the components inside.
Once the side panel is removed there is a lot of space inside for hardware. There is room for a 360mm graphics card with up to 170mm CPU cooler height clearance. There are plenty of radiator options – with space for up to a 280mm at the front and top with generous mounting holes to avoid any conflicts with the motherboard. There is also room for a up to a 140mm radiator at the rear.
If you feel you don't need the quite the cooling grunt with radiators you can mount fans in the corresponding locations with front mounting support for up to 3 x 120mm fans. This is due to the cut-out on the power supply shroud not being wide enough and is the same reason why a 360mm radiator is not supported in this location.
This case has ample hard drive support… up to 7 in fact. There is space for 2 x 2.5 inch hard drives on top of the power supply shroud which uses a slide on bracket system. These brackets can actually mount 3.5-inch drives as well which is nice.
There are two hard drive brackets located behind the motherboard tray as well but this can only support 2.5-inch drives due to side panel fitting restrictions. If you want a more traditional hard drive cage there is one located at the bottom in front of the power supply which can mount up to 3 x 3.5 drives or 3 x 2.5 inch drives. Luckily this hard drive cage is removable allowing you to fit a longer power supply if the 180mm spacing isn't enough.
Building a system in this case was simple but cable management could have been a little better. The cable mounting holes are a bit far away from the motherboard and I wish there was more space between the motherboard tray and the side panel as any slight bulge in the cables makes it really hard to fit the side panel back in place. My biggest complaint however is that the processor cut out is too small which means you have to remove the motherboard to get a CPU cooler mounted.
I mentioned before there is a fan control switch at the top of the case. This connects to a fan controller naturally which is located behind the motherboard tray.
It can support up to 7 fans, however these are only 3 pin connection headers so the switch only offers 3 speeds, slow, fast and stop. I do question the quality though as the fan controller is not made to the highest standards. I had an issue with the high-speed setting  stopping the fans entirely and sadly upon inspection I noticed one of the connections was a bit loose. I had to use a cable tie to make it secure.
Temperature Testing 
For temperature testing I used a combination of Aida 64 and Unigine Heaven running simultaneously for about 10 mins. I measured two different sets of temperatures – one with an additional two 120mm fans installed in the front (remember this case ships with one included fan). The over temperature was with only the included 120mm fan in the rear.
Test System:
Processor: Intel I5 7400 (stock speed)
Motherboard: Gygabyte GA-Z270P-D3
CPU cooler: Coolmaster Sedion 240V top mounted
Memory: Corsair Vengeance 16gb LPX 2666mhz
Graphics card: Sapphire r9 285 compact
Power supply: Coolmaster SIlent M pro 1000watt bronze
Storage drives: Drevo X1 240gb
OS: Windows 10
Single fan installation as supplied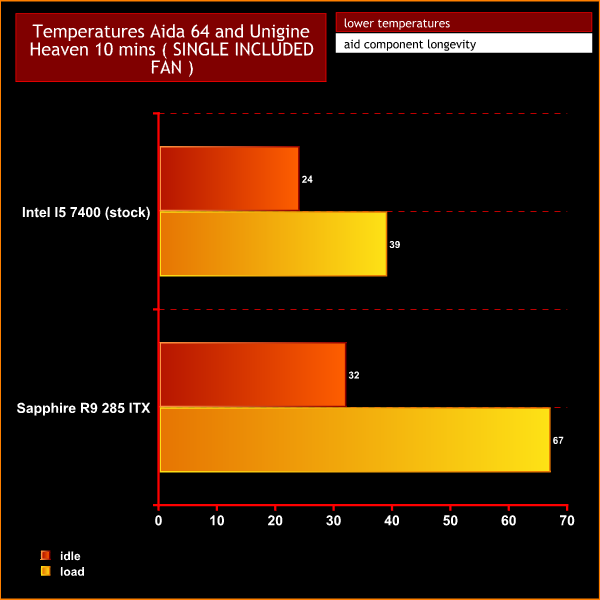 With two additional fans installed.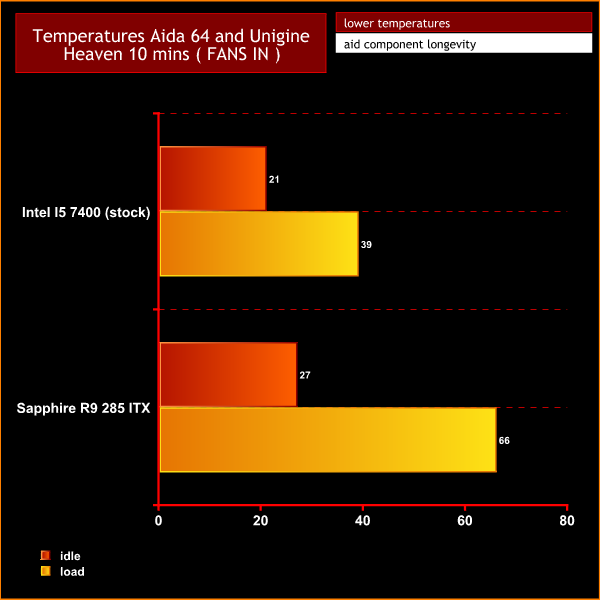 Temperatures are very reasonable, the 240 mm All in One cooler has no problem cooling a I5 but that is to be expected. Graphics card temperatures are also very good.
There is not much difference between the load temperatures with one fan installed and then three. I am not running hardware that is very hot in this system build, but it seems impractical that someone spending £50 on a case would not be buying a high end Core i7 and GTX 1080 ti graphics card. It would be safe to say that if you plan on running high end hardware in this case, adding another couple of fans will help.
Closing thoughts 
I enjoyed reviewing the Game Max Obsidian case. The understated yet elegant appearance will appeal to the gaming audience who loathe the latest raft of brightly lit, somewhat gaudy gaming cases which have hit the market.
While the £50 price will ensure the Obsidian hits a wide audience, it is actually quite capable of handling a fairly high cost system. By adding a couple of extra cooling fans for £10 it will easily deliver enough airflow. Our test Core i5 system build was perfectly fine under load with the single supplied fan running.
We appreciate the fact that there is a wide array of hard drive support out of the box. It will be a good case for a gamer, who also uses his system for media and storage duties. The side panel will also be welcomed by a large audience as a showcase for a good budget gaming system build. The fact that the front panel is plastic means the case is a little lighter to move, although I think if it was steel it might look a little nicer and match the rest of the materials.
We experienced some issues with the fan controller, however we might have just been unlucky. I would ask Game Max to make their CPU cut outs larger in future as it was not compatible with the motherboard i used.
Another fan wouldn't go amiss so there is a good intake – exhaust system in place from front to back. Only including a single fan is understandable at this price point however.
The GameMax Obsidian can currently be found for £48.49 including VAT from Scan.co.uk HERE
Pros
Low price.
3 Included dust filters.
Plenty of storage options.
Decent radiator support.
Good hardware compatibility.
Clear side window.
Quiet operation.
Cons 
To apparent that front panel is plastic.
Cable management could be a lot better.
Only one fan included.
Corsair Obsidian anyone?
Not very interesting design.
Fan controller not secure.
Kitguru says: Another solid case from Game Max at a very competitive price point.