The Arctic Freezer 33 eSports One cooler ships in a black box with white accents. A large photo of the cooler itself is visible on the front of the box.
Inside, instead of providing an actual manual, Arctic gives you a QR code to scan on your phone which then brings up a digital manual. Presumably, this is to save on paper.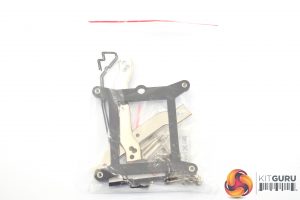 The installation hardware comes in one big bag, though there are labelled bags within that for the different socket types – something we always like to see.
The last thing in the box is the cooler itself, which ships with the single BioniX fan pre-installed. I was sent the white colour option, but the eSports One is also available in yellow, green and red variants so the choice is yours.
The cooler itself is pretty conventional with 4x6mm copper heatpipes, though the black paint job looks quite smart. With dimensions of 150x123x88mm (HxWxD) it is also quite compact so this should fit in all but the smallest of systems.