The be quiet! Dark Rock 4 ships in a very familiar-looking box – it is black with some grey accents, with a large product photo on the front.
Inside, there are no less than six included manuals – with English, German, French, Polish, Spanish and Russian languages included. The manual itself is also very well laid-out, with colour images and clear instructions.

In terms of the included accessories, all of the mounting hardware comes in one big bag, though there are separately labelled bags for Intel and AMD sockets inside that. Four fan clips are also provided.
Another lovely inclusion is the long-necked magnetic screwdriver which really helps when it comes to installing the heatsink – but more on that on the next page.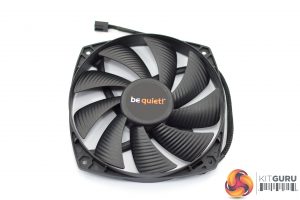 The included fan is from be quiet!'s own Silent Wings family, with this one measuring 135mm in size. It's rated to spin up to 1400RPM with a 0.11A input current rating.
Lastly, the heatsink itself looks very similar to its predecessor, the Dark Rock 3, although that is no bad thing – I love the all-black aesthetic, while the brushed metal top-plate is also very easy on the eye.
We also find 6x6mm heatpipes, while the cooler dimensions (with fan attached) is 159 x 136 x 96 mm. It weighs in at 920g, too, with the fan attached.