Recently KitGuru took a trip to visit Calyos, the Belgian cooling company. We've already reported how their technology works, while we also took a look at the upcoming NSG-S0 chassis. However, it seems that Calyos are thinking about debuting some stand-alone CPU/GPU coolers which use loop heat pipes.
Calyos' main technology uses loop heat pipes – something you can learn about over HERE. However, until now, Calyos had only shown full cooling systems that use this technology – the prime example being the NSG-S0, which is both a case and a CPU/GPU cooling system.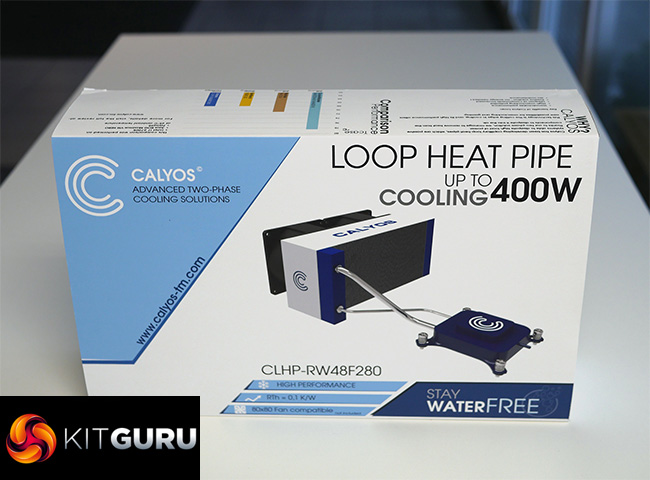 That could well change, though, as when we were at their HQ, Calyos showed us a few concepts, and even an early prototype, for stand-alone coolers – similar to all-in-one cooler liquid coolers that are already on the market.
As you can see above, these products look like traditional AIOs, while there was even a large air-tower cooler on show as well.
However, unlike the NSG-S0, these products are not fanless – Calyos told us that to have adequate fanless performance, these products would need excessively large radiators, making them impractical for most cases.
Thanks to the loop heat pipe technology, though, these stand-alone coolers should still perform very well – the larger 'AIO-equivalent' boasts a 400W cooling capacity, which is very impressive.
All that being said, it is not certain that we will see these coolers anytime soon. Calyos certainly want to be able to put more attention into them next year, but with the Kickstarter campaign for the NSG-G0, and their existing data centre cooling solutions already being manufactured, they told us it would be hard to get anything else done this year.
Even so, Calyos one-day hope to be in a situation similar to Asetek – meaning they want to produce OEM coolers for third-party companies such as Corsair and NZXT, who would then brand and sell the Calyos coolers as their own. This is certainly an interesting idea – perhaps Corsair's H200i might be a semi-passive, loop heat pipe unit? For now, though, all we can do is wait and see what the future brings.
KitGuru says: We had a great time in Brussels exploring Calyos' HQ. The idea of a stand-alone cooler from the company is certainly exciting, but we will have to wait and see what happens. If something like this ever does come to market, though, you can bet we will get a sample in for review.