Installing the Captain 120 EX is fairly straightforward, despite it utilising an unconventional method of mounting an AIO.
As a disclaimer, we installed the AIO on a motherboard using the LGA 1150 socket. The process below reflects that.
First, you slot four screws into the mounting backplate. These screws will then go through the mounting holes on the motherboard.
Also of note, the screws slot into grooves on the backplate, as above, meaning they do not fall out. A simple yet effective idea.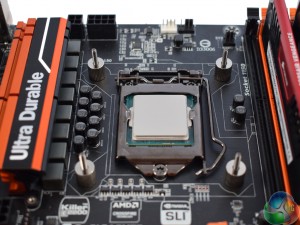 Once the screws have been locked into the backplate, fit them through the motherboard's mounting holes. Then you attach four spacers, or nuts, locking the screws in place.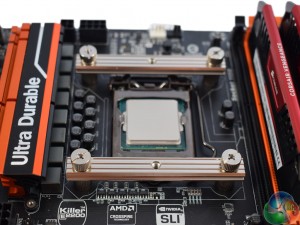 Once the spacers are on, two rails fit horizontally over the screws, as above. Another four nuts secure the rails. The holes you can see in the middle of the rails are how the pump locks on to the processor.
The pump has screws attached which you simply tighten down into said holes.
Once the pump has been screwed on, installation is complete. All that is left to do is ensure the pump's 3-pin power cable is connected, while making sure the radiator fan is also plugged in. The TF120 fan is a 4-pin PWM model, so it can be controlled via the motherboard.
Be sure to check out our sponsors store EKWB here