Temperatures
All temperature charts are sorted with lowest load temperatures at the top.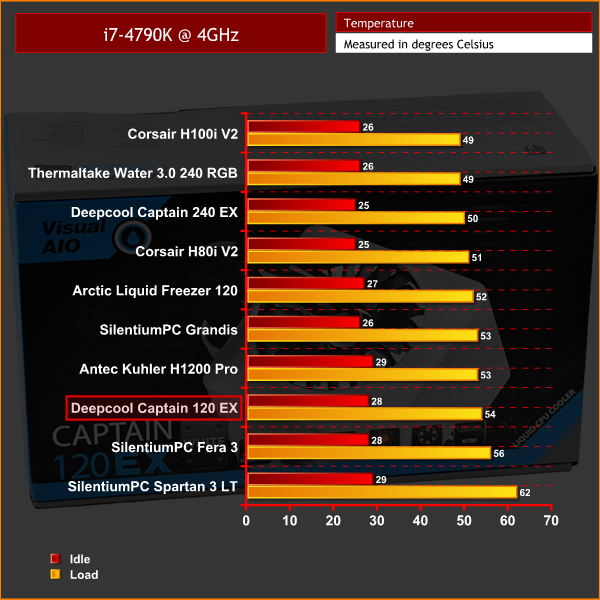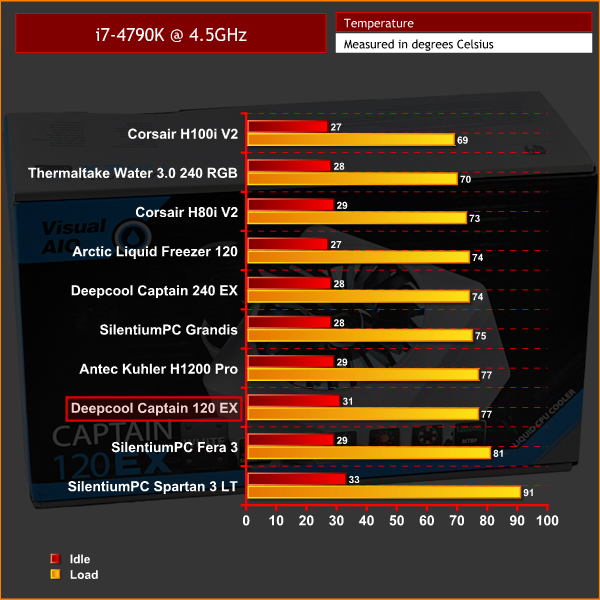 Above you can see the temperatures recorded by the Deepcool Captain 120 EX. Taken in isolation, they seem decent enough – peaking at less than 80 degrees for an overclocked i7-4790K under 100% load is not to be sniffed at. However, it comes in as the worst performing AIO I have tested to date.
To my mind, the reason for this is fairly straightforward – the Captain 120 EX has a relatively thin radiator, and only ships with one fan. The Arctic Liquid Freezer 120 and Corsair H80i V2, also 120mm units, outperform the Deepcool as they both have 49mm-thick radiators and ship with two fans, allowing for a push/pull configuration out-of-the-box.
In fairness to the Captain 120 EX, its smaller size may appeal to those looking for a decent AIO to use in a confined space, but its raw performance is lacking compared to other 120mm coolers.
Noise output
At idle, the TF120 barely spins meaning the cooler is essentially silent. Just like the Captain 240 EX, pump noise is also absolutely minimal – something we praised the 240 EX for in our 6 way round-up.
However, under load the noise is significantly louder. This is because the radiator has just one fan to shift air through it, meaning that the single unit has to run close to full pelt to dissipate heat from the radiator fins. With an extra fan, both could spin slower while pushing the same amount of air, which shows that the Captain 120 EX suffers doubly for not including a second TF120.
I would say that the noise generated by the single fan under load is like a powerful car accelerating quickly before maintaining a steady, yet high, speed. What I mean is the fan speed audibly ramps up very quickly when the CPU starts getting hot, before quickly plateauing at its maximum rpm.
However, while loud, the fan noise is quite low-pitched – meaning it blends into the background more than a high-pitched whirr.
Be sure to check out our sponsors store EKWB here