Here I will walk you through the installation process. It is worth noting we test using a Z97 motherboard – socket LGA 1150. The process below reflects that.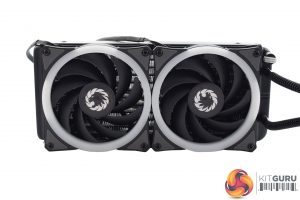 The first thing to do is screw the two fans to the radiator. I went for a push configuration but there is not much difference between push or pull, so go for whatever is most convenient for you.

After that, the backplate needs preparing: four small screws need to be locked into place with some plastic clips.
With that done, go ahead and attach the backplate to the rear of the motherboard socket area.
With those screws poking through the front of the motherboard, place four nuts on top of the screws to keep the backplate in-place.
Next, a metallic bracket needs to be placed over the pump, as this is how the cooler is secured to those nuts and the backplate.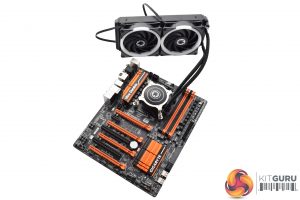 Finally, go ahead and apply thermal paste before mounting the cooler – and that is the installation process complete!
Overall, the process is pretty pain-free. I am not too keen on the metallic mounting bracket which slightly ruins the all-black aesthetic, but that is only minor – the process itself is easy and won't take more than 5 minutes.
Before moving on, it is worth looking at the lighting. The pump glows bright green when powered on, and sadly this is not controllable so if you don't like the colour, you are stuck with it.
The fans are a bit more interesting as they light up in multiple colours at once and slow cycle through the 7 different options. However, the fans aren't controllable either – the Iceberg is very 'plug and play', meaning there is no software control or 4-pin RGB headers, so you are stuck with the default lighting options.