Packaging of the H100i RGB Platinum follows Corsair's tradition of a black and yellow theme. On the front of the box is a large image of the cooler, Corsair's logo and other key information. The rear lists key features, technical specifications and a diagram of the radiator with dimensions.

Once unpacked, we can clearly see what's included. Along with the cooler itself, a pair of 120mm Magnetic Levitation fans, a bundle of screws and fixings, a USB cable to control RGB lighting, installation manual and warranty card are also present.
The H100i's aluminium radiator is a simple, all black design with the Corsair logo embossed on the top and bottom in a chrome finish. As we have come to expect from Corsair AIOs, the product is manufactured from high quality materials and feels sturdy in the hand.
The ML120 fans also have a very high-quality look to them. A rather chunky design is complimented by the triangular detailing around the sides. The RGB has vivid colours which brightly light up the fan blades. The corner mounting points, with anti-vibration rubbers, are removable so could potentially be swapped with different colours.
The pump housing of the H100i RGB Platinum takes on a black and silver theme with the central Corsair logo, and the outer ring is bathed in RGB lighting. The pump speed is technically PWM controlled, but the Corsair iCUE software must be used to manage this – otherwise the pump runs at 100% RPM.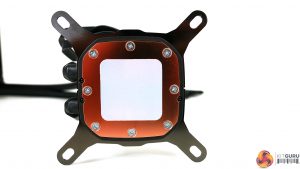 A thermal transfer plate on the underside of the pump is milled from a single piece of copper with a micro-fin chamber internally. A layer of thermal compound comes pre-applied to the base to provide even coverage while saving the end user time during installation.
The H100i RGB Platinum has a generous 350mm long tubing, which is wrapped in black braided sleeving. Flexibility of the tubing is good while still having a re-enforced feel, so shouldn't kink too easily. The 90 degrees swivel fittings at the pump should help with orientation and tube routing during installation.
Overall, the H100i RGB Platinum is an aesthetically pleasing cooler. A nice solid build combined with high quality materials and bright and colourful RGB means it shouldn't look out of place in most systems.