Overall, the Corsair H100i RGB Platinum is an aesthetically pleasing and well built product. The implementation of RGB lighting on both the pump and fans looks great and the product has a real quality feel to it.
In our previous review of the H100i RGB Platinum installed in an i7-7700k system it performed very well. However, this time around, trying to cool the Threadripper 2950X was a different story, as the much higher TDP proved a bit much for the H100i RGB Platinum to handle.
Since Corsair specifically list support for socket TR4, we expected the H100i RGB Platinum to perform a little better.  At stock CPU speed the thermal performance is adequate, but as soon as overclocking comes into the equation temperatures do start to soar. During our productivity tests, the H100i RGB Platinum was even beaten by the much cheaper Arctic Freezer 33 TR.

Due to the high speed of the Corsair ML120 fans when at 100%, unfortunately that means this is a very loud cooler. At 2700 RPM the fans produce 52.8 dBA noise, which can become quite distracting. With the H100i RGB Platinum not performing great thermally, this means the fans will be at high RPM quite often when the CPU is under load.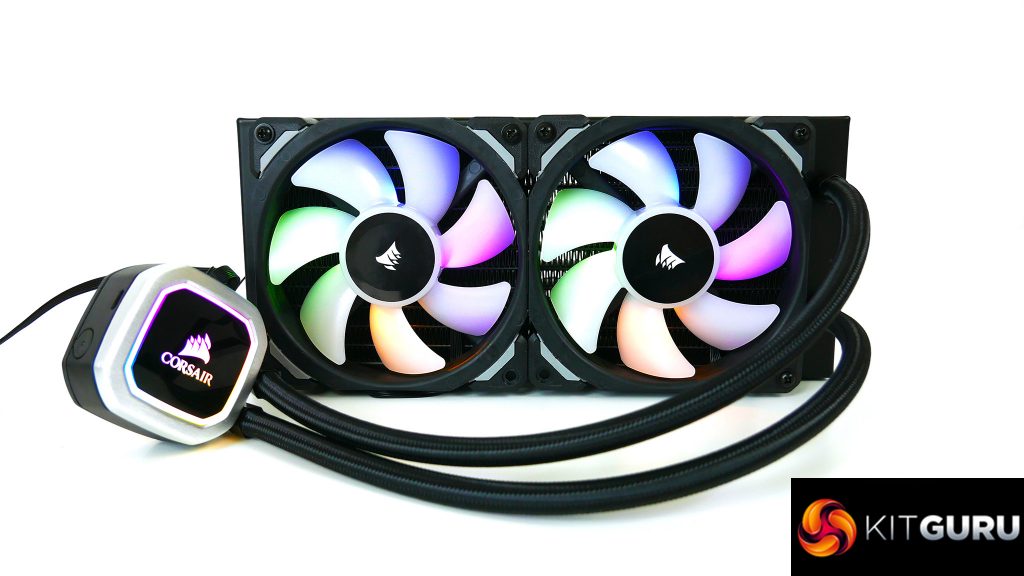 Since Corsair also uses its own iCUE software to control RGB and pump/fan speeds, there are a fair number of cables to work with. This makes the system look quite untidy and proves difficult when attempting to manage cables. We just wish Corsair would provide the option to use and alternative method, and allow users to connect direct to motherboard headers.
The benefit of using the iCUE software could provide advantageous for users with other Corsair products, however. The ability to sync other hardware's RGB lighting in the system is a nice feature, as long as it is compatible with iCUE.
Installation of the H100i RGB Platinum is pretty straightforward as it utilises the TR4 mounting points. The generous length of tubing and the 90 degree rotating fittings make orienting the pump position and routing the tubing in the system simple. All cables are a good length which is always nice to see.
Once installed into the system it is clear that the H100i RGB Platinum's thermal transfer plate only partially covers the large IHS of Threadripper. This will be a significant factor when explaining its average thermal performance. We often see coolers with full cover thermal transfer plates perform much better on socket TR4, as heat is spread more evenly and transferred efficiently.
With the price of the H100i RGB Platinum around £130 in the UK it is in line with other 240mm coolers with similar features. However, due to the average thermal performance, we wouldn't recommend going out and buying one to cool a 2950X CPU. If you already own a H100i RGB Platinum and are planning on running a TR4 CPU at stock speed, it may be worth sticking with as stock temperatures were within limits during our tests.

The Corsair H100i RGB Platinum is available for £129.95 from Overclockers UK HERE.
Pros
Good implementation of RGB lighting.
Generous tubing length.
Compatible with socket TR4.
Cons
Average thermal performance.
Very loud under load.
Many cables to manage.
KitGuru says: While the Corsair H100i is still considered a very good option for cooling CPUs with a lower TDP, the excessive heat from Threadripper is a different story.