Deepcool's fast "four step installation" mounting kit simplifies installation of such a large air cooler. It is similar in principle to the Noctua NH-D15 installation. Since our test bench uses an Intel Z390 motherboard, we will document the socket 115X procedure.
The first step involves preparing and fitting the retention back plate. To do this, take the four mounting posts and slot them through the respective holes for the socket type you require. You will feel them click and lock in place, when enough force is applied.
Next, line up the backplate with the holes in the motherboard and push through. The backplate is then held in place with four thumbscrews which are tightened down by hand.
For step two, select the correct upper mounting brackets for your socket type. Using the four upper retaining thumbscrews, tighten the brackets down on the mounting posts with the arrows facing towards the CPU socket. Final tightening can be achieved with a screwdriver.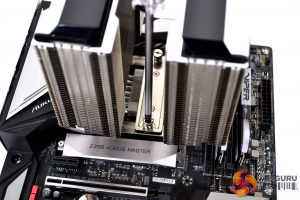 The next step is to remove the protective film from the under side of the thermal transfer plate, apply thermal compound using your preferred method and then lower the cooler down onto the CPU. Ensure the two retaining screws line up with the brackets and tighten down evenly, using the provided Philips screwdriver until snug.
For the final installation step, attach the retaining spring clips to the fans as directed in the manual and then clip the fans in place. You may find you have to adjust the height of the front fan if you have tall RAM as we did. Using the provided fan splitter cable, connect both fans together and plug into your CPU_FAN header on the motherboard.
Overall, the installation process is very simple and straightforward. However, it is worth noting that increasing the fan height to clear our RAM took the overall height of the cooler up to 195mm from the motherboard, which could cause problems in narrow cases. The Deepcool Macube 550 case we used in comparison testing gave us just enough room to fit the side panel with a few millimetres to spare.
With the fans in their default positions, maximum RAM clearance is 31mm. To keep the maximum height of the cooler to 165mm including fans, we suggest moving the front fan to the I/O side of the cooler, in pull configuration, to make space for RAM taller than 31mm and improve case compatibility.