Today we take a look at not one, but three new all-in-one CPU coolers from Fractal Design. The new Fractal Design Celsius+ series offers consumers a few more choices than usual from an AIO cooler series, with three different radiator sizes and fan options available. Aside from the choice of physical size, there is also the option for either high static pressure RGB fans, or non-RGB fans for a more understated and low noise output system.
One of the features that all of the Fractal Design Celsius+ coolers include is an integrated Fan/RGB Hub mounted to the radiator. This allows users to connect the 4-pin PWM power cables and RGB cables to a single control hub. This should provide a neat and tidy appearance and simplify cable management since the cables have been cleverly concealed within the braided sleeving covering the tubes.
Another design choice shared by all of the Celsius+ series is the switching method between automatic and PWM pump speed control. The top portion of the pump housing has an integrated switch to flick between auto or PWM mode. A twist of the top section of the pump housing switches between the two options.
Auto fan mode aims to keep the pump noise at the same level or below fan noise, while still ensuring maximum performance is maintained across the temperature range. PWM mode allows the user some flexibility, while still ensuring that the liquid inside the AIO is kept within pre-set safe limits so that the CPU will not overheat.
The main upgrade from the previous Celsius coolers is an updated pump unit. Since Fractal Design uses an Asetek based platform, the new Celsius+ AIOs are equipped with a 6th generation Asetek pump, with a rotational speed range of 800-2000 RPM in normal mode and a 3500 RPM maximum speed in thermal protection mode. Asetek 6th generation pumps are equipped with a ceramic bearing/shaft, a maximum pressure of 1.46mm H2O and output 20 dBA noise at full speed.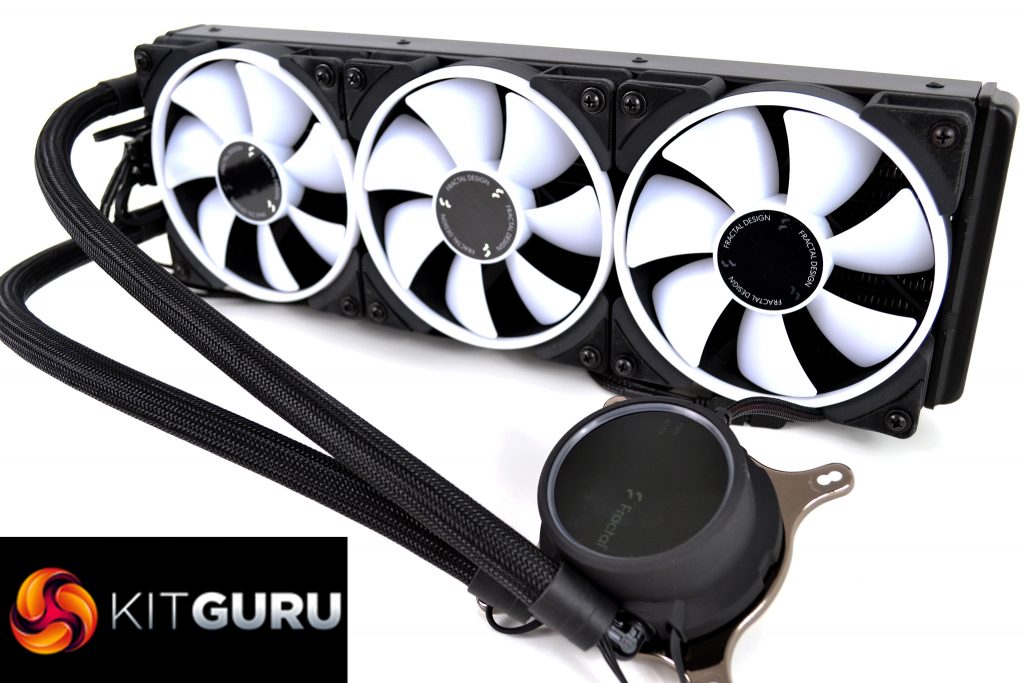 Fractal Design Celsius+ AIO coolers are available with two different fan options. Fractal Design Prisma AL series RGB fans or the more understated, all-black Dynamic X2 PWM fans in either 120mm or 140mm variants. The main difference between the two is the RGB, or lack of RGB in the case of the Dynamic X2 fans. 120mm versions have a speed range of 500-2000 RPM and 140mm fan speeds range from 500-1700 RPM, all producing around 30-35 dBA noise at maximum RPM.
As is typical of most mainstream all-in-one CPU coolers, the Fractal design Celsius+ series uses an aluminium radiator with a pump mounted above a copper thermal transfer plate featuring micro-fin channels to aid heat dissipation evenly. At the base of the CPU block, the tubing connects on rotatable fittings which makes positioning and installation easy.
All of the Celsius+ coolers feature RGB lighting in some form, with the top section of the pump housing featuring a tinted glass face that is backlit with an RGB LED ring and Fractal Logo. The addressable RGB lighting connects directly to 3-pin RGB motherboard headers and can be configured or synchronised with other RGB components via motherboard manufacturer software, such as Asus Aura Sync, Gigabyte RGB Fusion, MSI Mystic Light and ASRock Polychrome.
The entire Fractal Design Celsius+ AIO series is available from today (8th April). Prices start from £119.99 for the 240mm S24 with Dynamic X2 non-RGB fans, increasing up to £185.99 for the Celsius+ S36 with Prisma addressable RGB fans.
Key features
Choice of two different fan options
Addressable RGB pump housing
Switchable fan speed control
Integrated fan/RGB hub
Hidden cables
Specification
| | |
| --- | --- |
| Pump speed | 800-2000 RPM |
| Pump voltage | 5.5-13.2V DC |
| Pump power consumption | 4.32W at full speed |
| Pump maximum pressure, 50°C | 4.396 kPa / 1.46 mm H2O / 2.0 PSI |
| Pump MTTF | 50,000 hours |
| Fittings, block side | Articulating 90-degree elbow |
| Fittings, radiator side | Straight rotary |
| Radiator dimensions S36 | 123 x 30 x 403 mm |
| CPU block height | 45 mm |
| CPU block measurements (with fittings) | 86 x 75 mm |
| CPU block diameter (main block body) | 62 mm |
| Fan speed, S24/S36 Prisma | 500-2000 RPM |
| Fan airflow (max) | 85.71 CFM |
| Fan Control Method | 4-pin PWM |
| Fan RGB lighting (Prisma) | 5v 3-pin Addressable RGB |
| CPU socket support | AMD – AM2, AM2+, AM3, AM3+, AM4, FM1, FM2, FM2+, TR4Intel – 1150, 1151, 1155, 1156, 1366, 2011, 2011-3, 2066 |
Be sure to check out our sponsors store EKWB here