Overall, the Fractal Design Celsius+ AIOs equipped with Prisma RGB fans are a very attractive proposition. Price is in line with similar CPU coolers of this type from other manufacturers and there are features that offer a little more than other all-in-one coolers on the market, such as the hidden cables, radiator mounted fan/RGB hub and on the fly fan/pump speed control.
During our thermal performance testing, we set the on-device fan control switch to PWM mode so that we had full control over fan/pump RPM. However, switching to the "auto" mode threw up some undesirable results. Fan/pump speed in "auto" mode is extremely conservative, almost to a point where it seems like it is broken. However, in this mode, the coolers run extremely quiet.
With the fans set to "auto" and our test bench running 100% CPU load via AIDA64, the fan and pump RPM didn't seem to ramp up at all, even with the Intel Core i9-9900K CPU set at its 3.6 GHz all-core base frequency, the temperature would quickly rise to an undesirable and almost dangerous level. Fortunately, the CPU throttled back the frequency to protect itself from damage. With this in mind, we would recommend using this AIO in PWM mode on a high-end CPU like the 9900K, unless you really only care about noise levels.
However, with the Celsius+ coolers set to PWM fan/pump speed mode; thermal performance was quite impressive. All three of the Celsius+ coolers recorded excellent thermal performance levels during all of our tests, with the S28 280mm version just edging out the S36 360mm in terms of raw thermal performance. Even the 240mm S24 was right up in the top half of our thermal performance charts.
With the fans set in PWM mode and running at their maximum RPM, the 120mm versions could be a little on the loud side for some users, so setting a PWM fan curve in the motherboard BIOS or Windows software may be necessary for optimal sound to noise performance. However, the 140mm fans fitted to the S28 280mm cooler were a little quieter, even at 100% RPM, they could be tolerable for some users.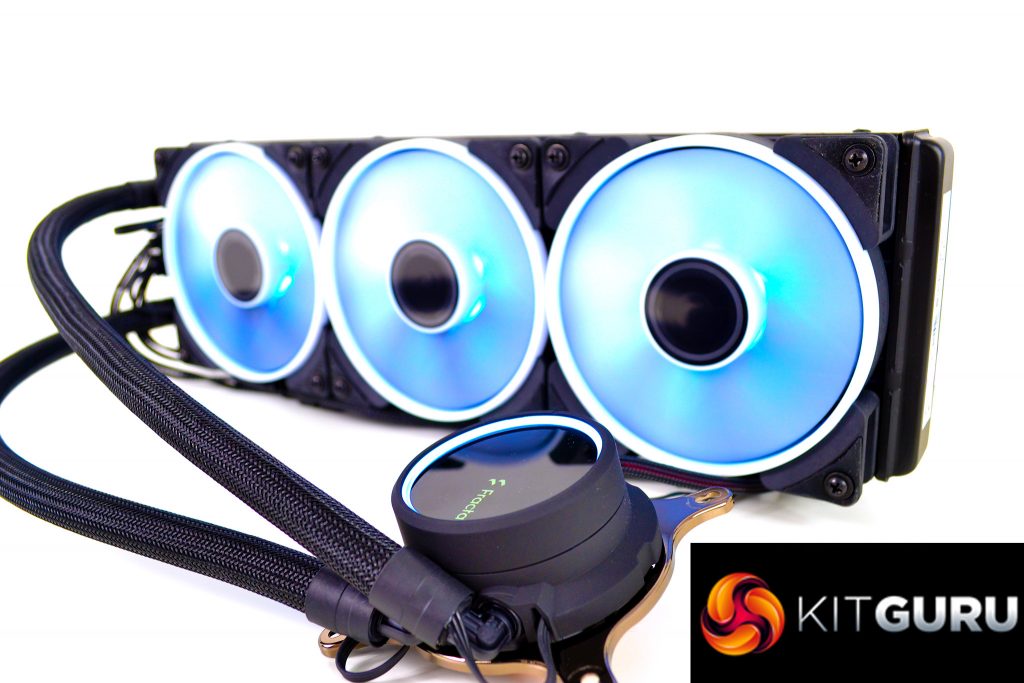 There are two variants of the Celsius+ AIO series to choose from, with different fan types. All three samples of ours are equipped with the Prisma RGB fans with white opaque fan blades and outer ring. This design allows the RGB lighting to illuminate the fan blades and outer ring well and gives a nice subtle glow to the system.
The radiator mounted fan/RGB hub is a feature carried over from the previous Celsius AIO series and is one we really like. It uses all standard 4-pin PWM fan connections and 3-pin RGB cables, so not only does it offer a great solution for managing cables, but it also connects directly to the motherboard so there are no extra controllers and additional cables or software to faff around with, everything can be controlled by motherboard software or BIOS settings.
Installation of Fractal Design's Celsius+ coolers is very quick and one of the most straightforward processes on the market. AMD AM4 installation retains the stock backplate so no disassembly is required. A single, universal backplate covers all Intel 115x and 1366 platforms and installation on our Z390 motherboard only took approximately 10-15 minutes, which means there is very little system downtime.
Out of all three of the Celsius+ coolers, we would personally recommend the S28 version if your case has the space to fit a 280mm radiator. While all three coolers performed very well in terms of thermal performance, the S28 offered the optimal raw thermal performance and noise levels during both of our overclocked Intel thermal performance tests.
The Fractal Design Celsius+ AIO series is available to purchase, priced from £119.99 to £185.99.
Discuss on our Facebook page HERE.
Pros
Integrated fan/RGB hub.
Multiple RGB lighting zones.
Cables hidden in tube sleeving.
Available with two fan options.
Solid thermal performance.
Cons
120mm fan versions may be a little loud for some users.
Auto fan mode seems too conservative.
S24 score:
S28 score:
S36 score
KitGuru says: Even though all three of these Fractal Design Celsius+ AIO coolers produced solid results in our thermal performance tests, for me the S28 280mm would be the one to buy if you have space in your case, it offers the best thermal performance and lowest noise levels so it's probably the best value out of the three. All three win our 'worth buying' award.