Cooler Master has announced a new range of products including an MA620M high-end air cooler featuring a dual tower design and six heat pipes, which will be launched alongside their SF120M industrial fans and a new GPU support brace.
Cooler Master's MA620M Desktop CPU air cooler is a new high-end solution which offers great cooling potential with its dual tower design, incorporating six heat pipes. The MA620M's heat pipes are positioned in a uniform layout to ensure even dissipation of heat, while the dual aluminium cooling tower features an all-black coating for a minimalist look.
Between the two towers sits a Cooler Master SF12R 120mm high static pressure fan to provide high airflow and silent performance, while maintaining CPU temperatures at acceptable levels. The MA620M is covered at the top with a black plastic shroud featuring addressable RGB lighting and a central Cooler Master logo outline.
The MA620 utilises an exclusive, all-in-one mounting design for easy installation. The overall design and mounting system of the cooler looks very similar to Cooler Master's Wraith Ripper TR4 Threadripper cooler. However, the new MA620M looks to have a smaller thermal transfer plate which would be an obvious change since this is aimed at mainstream Desktop CPU's.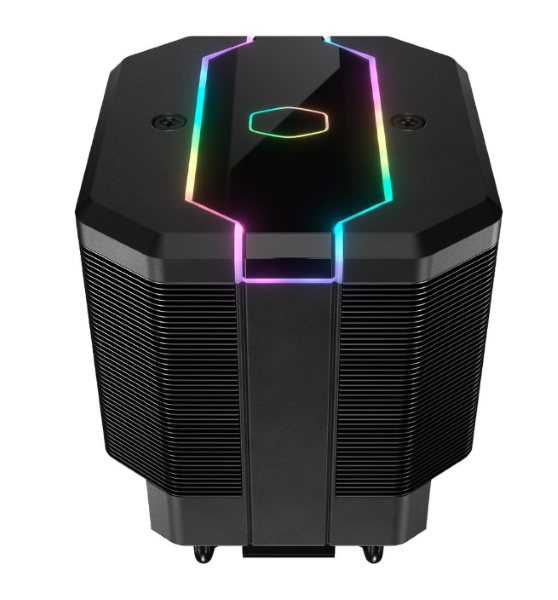 Bundled with the MA620M CPU cooler is a wired addressable RGB controller, which allows for customisable colours and patterns to be configured into the RGB lighting badge on top of the coolers shroud.
Being launched alongside the MA620M CPU cooler are Cooler Masters SF120M industrial grade fans and an ELV8 GPU support brace. The ELV8 gives support to your graphics card by holding it up and eliminating GPU sag, which will also relieve any stress on the motherboard too. The ELV8 is also adjustable to support almost any graphics card and features RGB lighting of course.
KitGuru says:  A new high-end air cooler launch is always exciting, and with a very similar look to the Wraith Ripper, the MA620M could have the performance to contend with other high-end air coolers such as the Noctua NH-D15. What do you all think of Cooler Master's latest launches?