Apple and its CEO, Tim Cook, have been openly enamoured with augmented reality for a few years now. The company began dipping its toes into AR with the iPhone 8, which touted a new wave of augmented reality apps for iOS. However, the company's big goal is to release dedicated Augmented Reality hardware and newly discovered patent filings give us some new details on what Apple is working on.
Apple has been acquiring start-up AR companies, including one that specialises in headsets and another that specialised in lenses. Apple also reportedly has around 1,000 engineers working on various AR projects, with the biggest being a rumoured AR headset- or potentially smart-glasses.
The new patent, which was filed in March, describes a 'reflective holographic combiner' embedded into lenses to display an image. The way it would work sounds like an augmented reality-infused projector.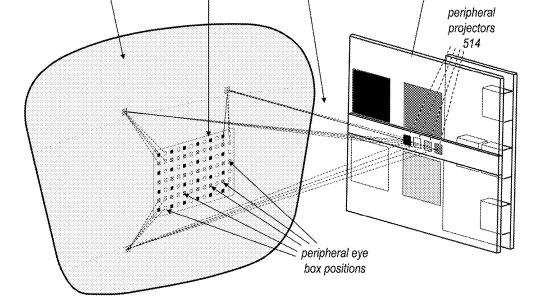 There would be a light engine and foveal projectors that beam through the holographic combiner, displaying images in the real world for the user to see. High resolution images would be displayed where a user's eyes are primarily focused, while lower resolution images are displayed on the periphery, which is a performance saving technique often used in VR applications.
Another detail focused on is a method for displaying an image that looks further away from the eye than it really is. This is in an effort to reduce eye strain and potential nausea- two issues that have been heavily focused on in the advent of consumer VR and AR technology.
KitGuru Says: We are likely still a few years away from Apple releasing dedicated Augmented Reality hardware, but the company seems to be making good progress. As always though, what we do eventually end up with is likely going to be quite different from what early patents describe.