In terms of thermal performance, the NZXT Kraken X-3 and Z-3 coolers performed brilliantly on our Intel Z390 based test bench. If raw thermal performance is what you look for in an AIO CPU cooler, then either the X73 or Z63 will be a very solid choice. During our thermal performance testing with noise normalised, the X73 and Z63 were head and shoulders above the competition, it seems as though Asetek has nailed it with the generation 7 pump design, and combined with the NZXT Aer P fans, thermal performance is the next best thing to custom cooling that money can buy.
Not only is the thermal performance best in class (on our test bench at least), both the X-3 and Z-3 coolers are equipped with CPU block designs that offer various levels of customisation. Of the two, the Z63 is the most impressive with its 60mm LCD display where users can check system information such as temperatures and core frequencies or even customise the CPU block with their own animated GIF or image using the NZXT CAM software.
The X73 also offers customisation of RGB lighting colours, effects and brightness intensity of the infinity mirror style CPU block top cover. The only downside is that all customisation takes place using the CAM software and there is no option to synchronise RGB lighting effects via a standard motherboard RGB header.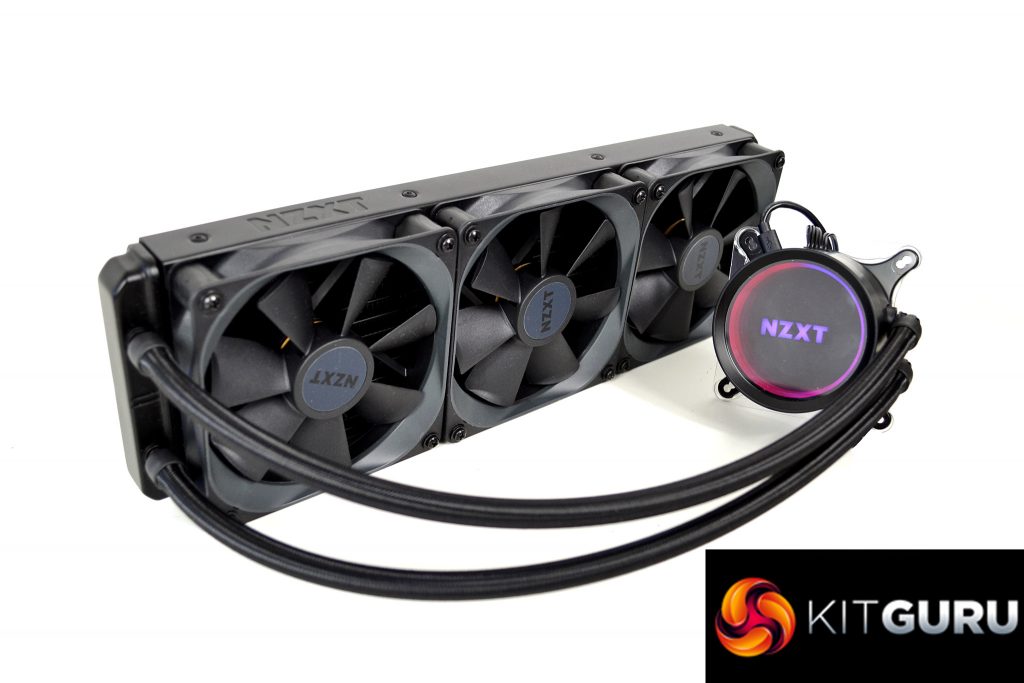 One other decision by NZXT that I found a little odd with the X73, was failing to include a fan splitter cable with the cooler. Instead, the user must either connect each fan to individual headers on the motherboard, use an additional fan controller or purchase a fan splitter separately. While these are viable options, the user may find that they either don't have enough spare fan headers or will have to fork out an additional cost for a fan hub or splitter cable. Update: NZXT has informed us that retail versions of the X73 do now come with a splitter, but our sample was an early model that did not have one.
A simple three-way fan splitter cable included with the cooler would be a better solution and one that I would expect in the box with an AIO that has multiple fans. A premium product such as the NZXT Kraken X73 should need no additional parts to be purchased separately to complete the installation. That said, a three-way fan splitter can be picked up for pennies these days.
These issues are just nit-picking and they certainly wouldn't hold me back from buying either of these coolers. One thing that may put you off a little is the price, at £219.99 the Kraken Z63 is priced at the top end of the AIO market. No doubt this is mainly due to the cost of implementing the LCD in the CPU block, and while it is certainly unique and impressive to look at, I'm personally not convinced it is necessary for everyone, but that's where the X73 comes in.
For those who like to have their PC on display on a desk or shelf, the system information and monitoring function of the Z63 display is a great feature and means there is no need for software temperature monitoring with an on-screen overlay. However, for those users like myself that prefer to have the PC under a desk and a little more hidden away, the Z63 LCD display becomes a little pointless.
That is why my personal choice would be the X73. The X-3 series offers the same thermal performance as the Z-3 but without all the visual bells and whistles, so for those who don't need all the extra features, they can benefit from the thermal performance of the Z-3 while saving some cash in the process. At least with the two options being available, everyone is covered.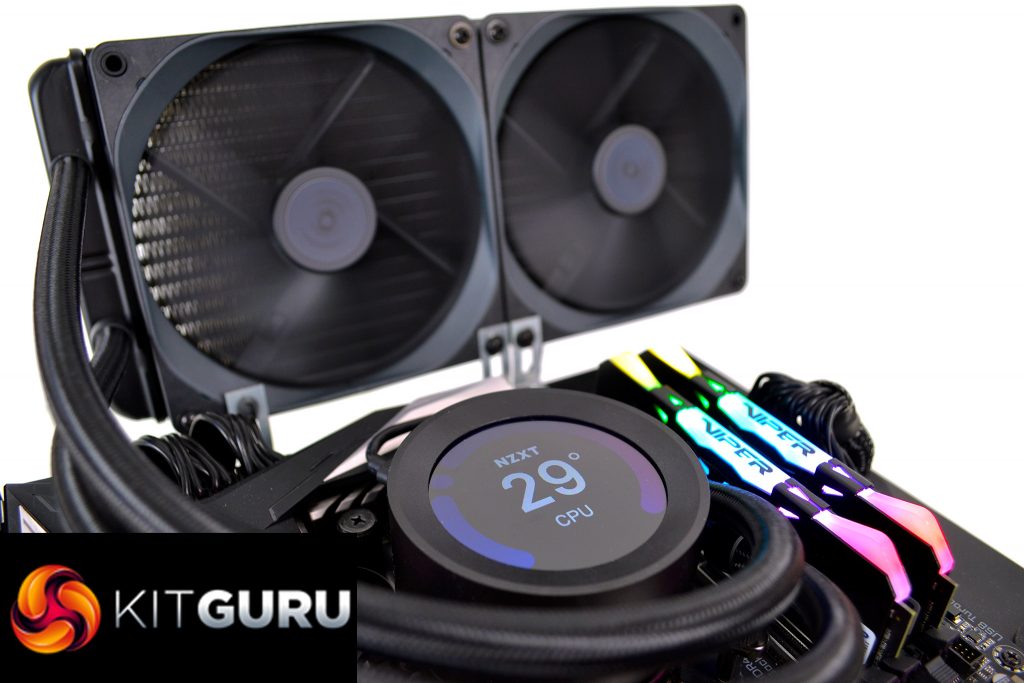 NZXT seems to have a knack of producing components with an understated appearance but always having a unique stand out feature, and the same can be said for these new Kraken coolers. The all-black design of the radiator, fans, CPU block and tubing looks great, while the RGB infinity mirror of the X73 and the LCD display of the Z63 enhance the appearance further without looking too garish, NZXT has got the balance just right.
If you are looking for a little more bling with additional RGB lighting, NZXT has integrated an RGB channel into the CPU block of both the X-3 and Z-3 series coolers. This means that additional HUE 2 compatible RGB fans can be used to replace the stock fans that come with the coolers, or other HUE 2 RGB components such as an LED strip, RGB cable combs or underglow lighting could be connected to the coolers' RGB channel.
Since the NZXT Kraken X-3 and Z-3 coolers are Asetek based, CPU socket compatibility is extensive. All current mainstream desktop platforms are catered for, including the new Intel LGA 1200 socket as well as AMD's high-end desktop TR4/TRX40 Threadripper. The installation process of Asetek based coolers is also very refined now which means installing the hardware components is quick and simple. However, because of the complexity of the electronics integrated into the CPU block, there is a fair amount of wiring that can look a little untidy if care isn't taken to manage cables.
Taken as a whole, the latest generation of NZXT Kraken coolers is highly impressive. Thermal performance is simply the best we have seen on our test bench to date and will be the benchmark we use to compare all future coolers against. Even during our noise normalised testing, the Kraken X73 and Z63 easily came out on top and visually the coolers perform great too. So, maybe it is worth shelling out a little more of your hard-earned cash to get the best performance. Both of these coolers will certainly be on my shortlist for future builds.

NZXT Kraken X-3 and Z-3 series AIO coolers are available to purchase from Overclockers UK, the Kraken X73 is priced at £159.99 and the Kraken Z63 with LCD display will set you back £229.99.
Discuss on our Facebook page HERE.
Pros:
Premium aesthetics.
LCD display or infinity mirror to suit both tastes.
Outstanding thermal performance.
Understated but unique appearance.
Simple installation
Wide range of CPU socket compatibility.
Built-in RGB channel.
Cons:
Price is a little high.
No fan splitter cable with the X73. Update: NZXT has informed us that retail versions of the X73 do now come with a splitter, but our sample was an early model that did not have one.
NZXT Kraken X73 score:
NZXT Kraken Z63 score:
KitGuru says: In our opinion, NZXT Kraken X73 and Z63 are both must have coolers in 2020. A combination of outstanding thermal performance and unique CPU block aesthetics makes the X-3 and Z-3 series stand out from the crowd. Even though they may be a little pricey, the premium style and class-leading thermal performance are worth splashing out that little bit extra for.
Be sure to check out our sponsors store EKWB here