SilverStone package the Permafrost PM240-ARGB in a cardboard box with a blue and white theme. The front has a clean look, displaying a large image of the cooler centrally, with the SilverStone name and cooler model printed in opposite corners. On the rear are specifications and three smaller images.
Once removed from the box and plastic wrapping, we can clearly see what's included. Several grip seal bags contain all the mounting hardware which is sorted for socket type. Another grip seal bag contains assorted cables and an ARGB controller and of course, the cooler itself.
Additionally, there are two 120mm ARGB fans with 4-pin PWM connectivity, featuring nine opaque blades on a relatively small central hub. The four corner mounting points are fitted with rubber anti-vibration pads and feature standard ARGB 3-pin 5v connections.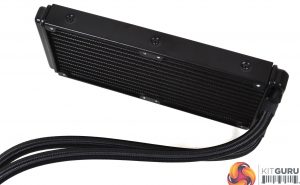 The PM240-ARGB radiator is a very minimalist design with rivets on show, painted all black and showing no branding whatsoever. This may not appeal to everyone; however, it should provide aesthetic compatibility in most systems due to its neutral design.
The radiator tubing has a generous length to it at approximately 395mm and is covered in high quality black braided sleeving. On the radiator end, the tubing is fixed in position. However, at the pump end, there are rotating fittings to aid with installation.
Most of the CPU block is made up of a black plastic cover, and while this looks ok, it has a slightly cheap feel to it. This should not affect performance though. The top of the CPU block features a mirror finish plastic plate, and on close inspection, we can just make out the SilverStone logo beneath. Again, SilverStone uses standard ARGB 3-pin 5v cables for the pump.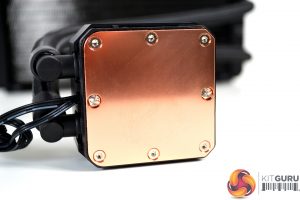 The underside of the CPU block features a large square design and a copper microchannel thermal transfer plate with Torx screws securing it to the pump housing, along with two security screws. The size and shape of the thermal plate looks good and should fully cover all desktop CPU integrated heat spreaders, which not all coolers manage to achieve.
With power applied to the cooler, the SilverStone logo under the mirror-finished plastic now lights up with RGB LEDs. As do the fans, which adds another dimension to the visual design.
Overall, the build quality of the PM24-ARGB is excellent as SilverStone has used a combination of high-quality materials. We especially like the fact that they have used standard 3-pin 5v ARGB cables, which means we are not forced to use any manufacturer specific devices or software to control the RGB lighting.
Be sure to check out our sponsors store EKWB here