Taken as a whole, SilverStone has done a really great job with their new line of Permafrost all-in-one liquid coolers. A good combination of quality components and RGB lighting makes it both aesthetically pleasing and a good performer during our tests.
The implementation of their new water block and pump design seems to be working as expected – the cooler really impressed us with its raw cooling power. In our overclocked frequency tests, the Permafrost PF24-ARGB was up there with some of the best coolers we have tested in recent months.
When the system is idle, both the pump and the fans are very quiet, you can barely hear the pump at all. Once the fans start to ramp up under load, they do become louder. However, it still remains quieter than some of the other all-in-one 240mm liquid coolers we have tested from more popular brands.
Earlier in the review, we had some slight reservations about the quality of the plastic shroud covering the pump housing. Although it does look a little cheap, once installed in the system the plastic wasn't too noticeable and blended in with the colour of other components, so this shouldn't put anyone off.
All the other components which make up the Permafrost PF240-ARGB appear to be sourced from good quality materials – this is something we noticed during installation. Everything feels very solid and we didn't come across any problems, other than the fact we had no installation manual, which we assume will come with retail versions.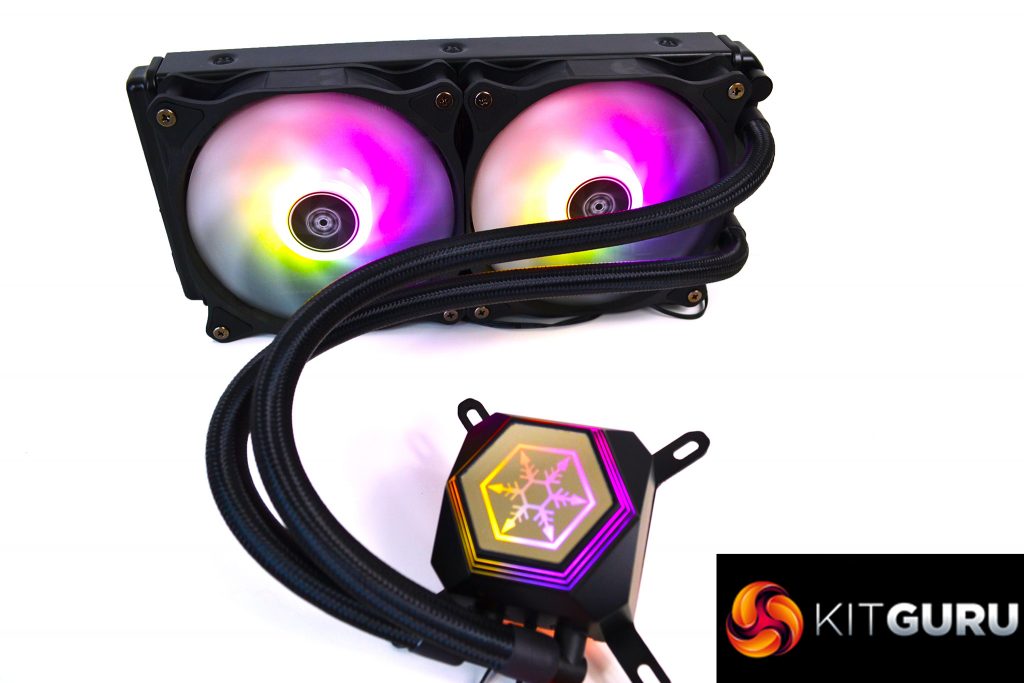 SilverStone has certainly not cut corners with the PF240-ARGB – a good length of tubing has been fitted and the braided sleeving adds to the appearance. The tubing is thicker than some we have seen in other all-in-one liquid coolers before. Rotating fittings on the pump is always a good feature which makes installation and tube routing easy.
A good implementation of RGB has been incorporated into the Permafrost PF240-ARGB's design, the lighting is bright and the colours are vivid. The fact that you have the option to connect directly to motherboard ARGB headers is also a feature we love, which is often missing in other RGB based products. SilverStone also goes to the trouble of providing an optional ARGB controller, so users who don't have RGB motherboards with 3-pin 5v headers, can still take advantage of the RGB lighting of the cooler.
Overall, SilverStone has provided a really good option for anyone in the market for a new all-in-one liquid cooler currently. This is one we would certainly recommend as it provides both excellent cooling performance and good aesthetics with relatively low noise levels. On top of that, with a price of under £100 at launch, we think this is great value too.

The SilverStone Permafrost PF240-ARGB all-in-one liquid cooler is available to pre-order now from Overclockers for £94.99 HERE.
Pros:
Excellent cooling performance.
ARGB lighting.
High-quality components.
Lighting controller included.
Cons:
Slightly cheap-feeling plastic cover on pump.
Fan noise levels can be a little distracting under full load.
KitGuru says: If you are looking for a new all-in-one liquid cooler at the moment, be sure to check out the SilverStone Permafrost range – it's a great option at under £100.
Be sure to check out our sponsors store EKWB here