We compared the be quiet! Dark Rock Pro 3 CPU cooler to two competing models – the Noctua NH-D14 and Corsair's All-in-One H100i.
It is worth noting that both the Noctua NH-D14 and Corsair H100i have received a large amount of usage over their lifetime. While we tried our best to clean the coolers and remove any dust, some dirt will inevitably remain and will have a small affect on the accuracy of our recorded performance (compared to a brand new unit).
Our charts show actual temperatures of the CPU, not delta temperatures.

Ambient temperature was maintained at 22°C.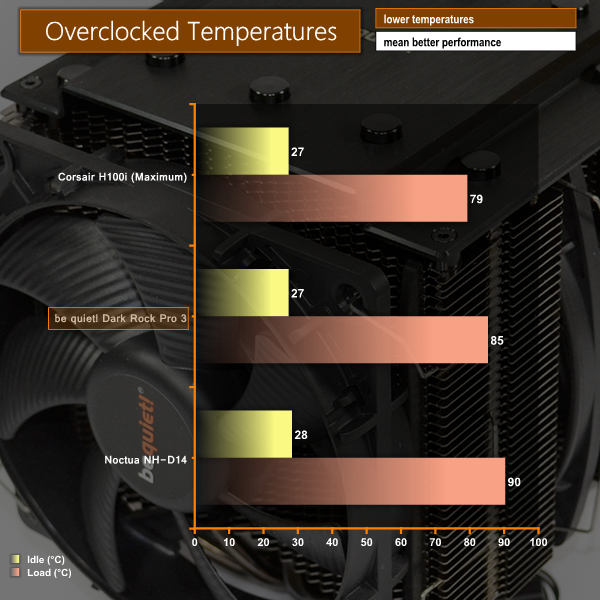 The Dark Rock Pro 3 manages a good start in stock speed cooling tests. be quiet!'s model outperforms its Noctua competitor by 4°C (6%) under a stock-clocked load. Neither of the dual tower air coolers can match the stock CPU thermal performance of Corsair's H100i closed-loop liquid cooler; the H100i outperforms the DRP 3 by 4°C (just over 6%).
With heat turned up via the application of a 4.5GHz overclock and 1.325V core voltage, the be quiet! Dark Rock Pro 3 still manages impressive numbers against Noctua's D14. Outperforming the former Austrian king by 5°C (5.5%), the Dark Rock Pro 3 has proven that it can handle the high thermal loads that Intel's 4770K can project. Corsair's H100i still manages a lead over both air coolers, though.
Higher fan speeds is the first reason that we will point towards for be quiet!'s DRP 3 outperforming the Noctua D14. The amount of thermal energy that can be removed from a heat exchanger is heavily reliant upon the speed of air flowing past the finned surfaces. Hence higher fan speeds are better, in simple theory (there are additional factors, of course).
An additional 6mm heatpipe for the Dark Rock Pro 3 also helps to increase the rate at which heat is transferred to the fin array via conduction. And, based on the cooling results, it would be fair to suggest that be quiet!'s clever heatpipe layout has worked positively for the heatsink's performance.
Although it is very difficult to point out how much effect each component has on cooling performance, I also want to mention the surface dots added by be quiet!. In theory, these dots help to increase the flow turbulence and therefore rate of heat removal. Our recorded results suggest that they could be doing just that, while combined with the other performance aspects.
While we cannot ignore the fact that extended usage (and henceforth small amounts of dust build-up) has affected our Noctua NH-D14's cooling performance, the margin at which be quiet!'s Dark Rock Pro 3 outperforms the Austrian beast is still impressive.