We measured the noise output of our entire system from a distance of 1m while the CPU cooler's fans operated at 100% (indicating the maximum noise output).
Lower noise levels can be achieved by utilising the 4-pin PWM operation of the Dark Rock Pro 3 CPU cooler's fans.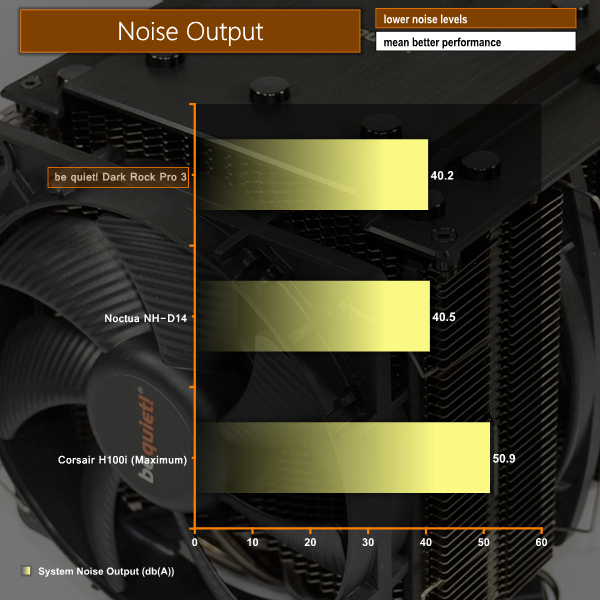 Noise output is where the be quiet! Dark Rock Pro 3 really shines. Noctua's NH-D14 was already regarded as one of the quietest high-performance, dual tower CPU coolers. And be quiet!'s latest Dark Rock Pro unit manages to match the Austrian sandwich's acoustic performance (the difference is too close to call a conclusive winner).
If there was a set of results that showed the benefits of an air cooler over an AIO liquid cooling unit, noise output would be it. Corsair's CLC unit is substantially louder than both dual tower air coolers. And while it does thermally outperform both models, that added cooling capacity comes at the price of noise, and lots of it.
According to the volume loudness (perceived sound level of human hearing) scale, the be quiet! Dark Rock Pro 3 is approximately half as loud as Corsair's H100i (- ~10dB). And if those noise levels aren't low enough, the PWM operation of the SilentWings fans can be utilised.