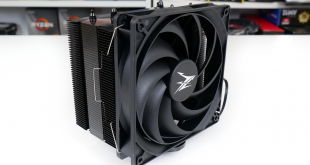 Today we are taking a look at a new mid-range CPU cooler from Zalman – the CNPS10X Performa Black. Despite featuring the same name as the CNPS10X Performa (not Black) that launched earlier in the last decade (!), the new BLACK edition is vastly different – and it has no RGB lighting, which I know will be breathe of fresh air to some!
Video Timestamps:
00:00 Start
00:15 Introduction / pricing
01:16 Bundle and overview
03:10 A closer look
03:45 The 135mm ZM10XPB-PWM fan
06:18 Warranty terms
07:14 Installation
09:18 Test setup and procedures
12:05 Test results
14:36 4.1GHz fixed frequency overclocked testing
15:33 VRM temperatures / overclocked
16:03 Stock cooling results
16:35 Closing Thoughts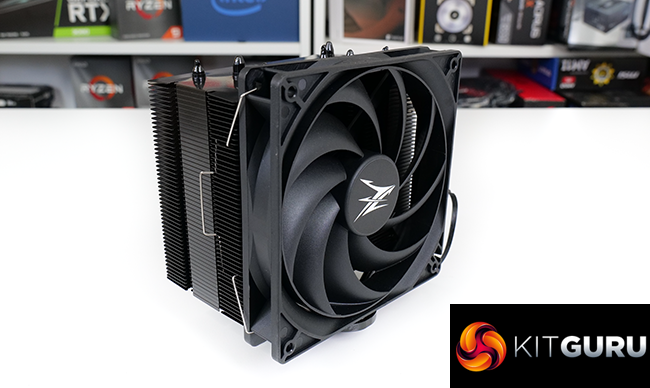 Priced with a target of around £33, but with suggested retail availability being more like £38 later this month, the Zalman CNPS10X Performa Black is firmly sat in the mid-range CPU cooler territory.
Looking firstly at the CPU cooler heatsink itself, Zalman has gone with an all-black design. This has a matte finish that is what I would describe as a pure black. The design is very be quiet!-esque; that is strong praise.
The consistency of the coating is excellent for our sample. Zalman advertises that it uses an Electrophoresis application method for the black coating which – if done correctly – may add some minor thermal performance benefits aside from just aesthetics.
The heatsink weighs in at 860g and has reasonably large dimensions of 135mm width and 155mm height. Certainly, watch out for VRM heatsink interference with that width of fin array. Zalman does, however, offset the aluminium fin array so that memory interference will be of lesser concern.
Heatsink dissipation area is 9271 cm2… in case you were interested.
Running through the aluminium fin array are four 6mm diameter copper heatpipes that emerge from the Heatpipe Direct Touch base. These are mounted in a U-shaped orientation, as we would expect for a single-tower heatsink.
This HDT base design is likely to be a good solution for a mid-range cooler such as this with a 180W TDP rating (whatever that means in a world of vastly different CPUs). It is not realistically intended to be paired with a CPU thermal load whereby the HDT design will become insufficient.
There is some gap between the heatpipes at the base, so this should allow for decent coverage on bigger heatspreaders such as Ryzen.
Regarding the fan, Zalman supplies a 135mm unit with model number ZM10XPB-PWM. The annular design is touted by Zalman as offering improved noise operation and a more focussed flow direction, both of which seem like fair claims. This 135mm EBR bearing design version is a clear step up versus the typical 120mm offering at the sub-£40 price point.
Powered by a 4-pin PWM connector, the speed range is rated at 700-1500 RPM. 1500 RPM is fine on the higher-end as that should offer a good balance of noise and performance for a 135mm blower. But 700 RPM on the low side is not particularly low when we see some competitors such as Arctic offering semi-passive models with wider speed ranges.
With the fan in place, the cooler extends to 95mm depth and there is an option to not extend the height past 155mm tall. You also get some design logic applied to clearance for motherboards VRM heatsinks. Though taller heatsinks will likely interfere a put a reliance upon moving the fan to a higher vertical position.
One minor point to note is that the 50,000-hour rated fan lifespan does not instil particularly high confidence in its longevity. 80,000+ hours seems to be more typical even for this price range.
And that ties in nicely to the warranty period for Zalman which we are told is 12 months. That is pathetic for a mid-range cooler in today's market. Arctic competitors offer 10 years, be quiet! is 3 years, Cooler Master is 2 years, and even a budget alternative from SilentiumPC is 6 years.
There is a technicality whereby one UK distributor – VIP – offers a 24-month warranty. This should mean that retailers using VIP will also offer 24 months. But we would imagine that this could vary from retailer to retailer and region to region.
Either way, 12 months or 24 months is pretty poor indeed.
Specifications and Features (taken from manufacturer webpage):
135mm Annular Fan
Asymmetric heatpipes for installation space
Motherboard VRM cooling
Heatpipe Direct Touch (HDT) technology
PWM fan with automatic speed control
ZM-STC8 thermal compound
Modern Intel and AM4 socket support
Be sure to check out our sponsors store EKWB here