Let's start off with noise performance from each cooler at 100% fan speed.
This is important as it sets the precedence for which coolers we expect to deliver the higher levels of performance based on the faster and louder fans. Assuming that their performance is efficient in comparison to their noise output levels, that is.
The chassis fans are disabled, all case panels are on, and the sound meter is placed 12 inches from the side of the Fractal chassis' glass side panel – roughly where a desk user will be sat.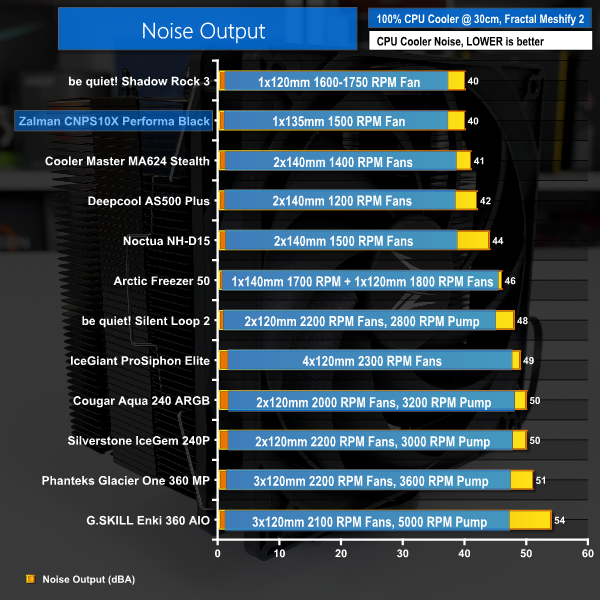 Rounding to 40dBA noise output at our usual 12-inch test distance from the Fractal chassis, Zalman's cooler delivers excellent acoustic results. In fact, only be quiet!'s marginally less noisy Shadow Rock 3 can outperform the 135mm Zalman cooler (by a within margin of error 0.2 dBA).
Put simply, the CNPS10X Performa Black is equipped with a fan that is superb for low noise operation even when at its full 1500 RPM operating speed.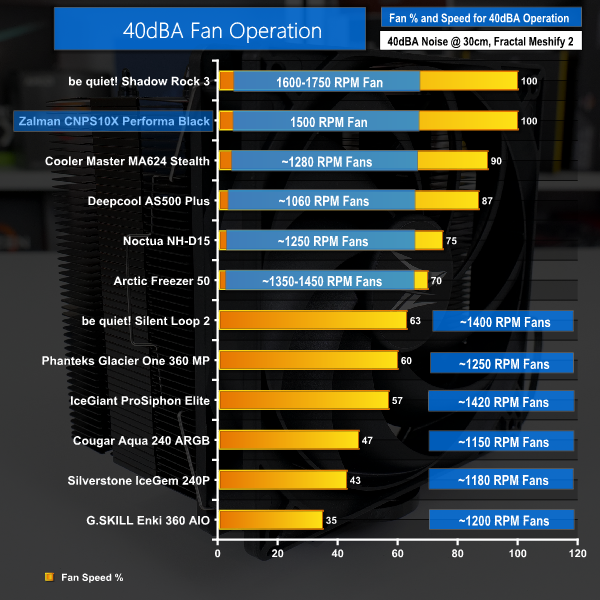 The results of 40dBA noise output also mean that there is no need for added charts showing our usual 40dBA fixed noise output testing.
That's the performance you get at full fan speed.