We are happy with the performance offered by the Zalman CNPS10X Performa Black CPU cooler. Versus a realistic, direct competitor in the low-noise, mid-range CPU cooler territory, Zalman's 135mm-class unit actually manages to outperform the be quiet! Shadow Rock 3 in general.
Arctic's slightly cheaper (and older) single-tower 120mm Freezer unit is also comfortably bettered by Zalman. And the noise levels from the 135mm 1500 RPM fan are impressive at around 40dBA nominal.
There are some clear downsides that need noting. The warranty situation is confusing and – quite frankly – weak, the speed range of the single fan is a little limited at 700 RPM rated minimum, and I would have liked an extra set of fan clips for future upgrades.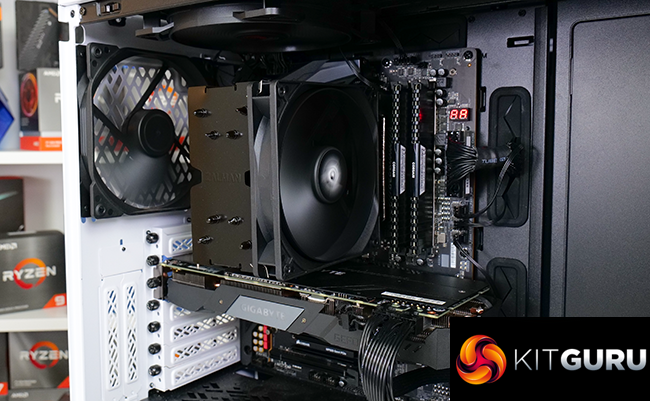 However, the styling and quality of manufacture is very good for our sample. The RAM and VRM heatsink compatibility look to be good thanks the asymmetric tower design and adjustable fan height. And the mount system is very sturdy, even if a little confusing at first.
At around £35 initial conceived price – but perhaps more like £38 currently in the UK – the Zalman CNPS10X Performa Black offers a lot of bang for its buck with stellar performance at impressive noise levels.
You should be able to purchase the Zalman CNPS10X Performa Black for around £38, with availability targeting this month.
Update 21/7/21 – Zalman have confirmed to us a 2-year warranty will be offered to UK customers. Read more details HERE.
Discuss on our Facebook page HERE.
Pros:
Great aesthetics from the clean black
Impressive low noise operation
Good cooling performance
Sturdy installation hardware
Excellent RAM clearance and adjustable fan height
Cons:
12-month (or possibly 24-month) warranty is poor. See update above.
Limited fan speed control range with 700 RPM lower end
Installation process needs slightly clearer guidance for the early steps
KitGuru says: Strong performance, low noise operation, and a wallet-friendly price tag. The Zalman CNPS10X Performa Black has a lot to offer.