Advanced Micro Devices said on Tuesday that it pins a lot of hopes on its code-named "Carrizo" accelerated processing units after posting a major decline in sales of microprocessors and graphics adapters for personal computers. According to AMD, the "Carrizo" APUs will finally help it to boost PC chip market share thanks to low power consumption and decent performance.
"We plan to introduce a strong 2015 product portfolio, punctuated by the launch of Carrizo in the second quarter," said Lisa Su, chief executive officer of AMD, during a conference call with investors and financial analysts. "Consumer and commercial design-win momentum for Carrizo continues to gain momentum because it will deliver the largest ever generational leap in performance-per-watt for our mainstream APUs."
AMD "Carrizo" accelerated processing units sport up to four high-performance "Excavator" x86 cores, Radeon R7 graphics processing engine powered by the GCN 1.2 architecture, a dual-channel DDR3/DDR4 memory controller as well as full HSA [heterogeneous system architecture] 1.0 implementation. The "Carrizo" is pin-to-pin compatible with cheaper and more power-efficient "Carrizo-L" APUs that integrate up to four low-power Puma+ x86 cores, Radeon R-series graphics engine based on the GCN 1.0 architecture as well as a single-channel DDR3 memory controller. Both "Carrizo" and "Carrizo-L" chips for incorporate either on-package or integrated I/O controllers and use next-generation FP4 ball grid array (BGA) packaging.
The chipmaker believes that improved power efficiency of the "Excavator" x86 cores, HSA features and new graphics engine will not only improve performance in various applications, but also reduce power consumption. AMD believes that the combination of Carrizo's capabilities will help it to win multiple contracts with PC makers.
AMD did not reveal how exactly it plans to improve sales of its accelerated processing units, but keeping in mind that the design of the "Carrizo" is optimized for low manufacturing cost, it will be possible for AMD to offer very competitive prices with its new APUs.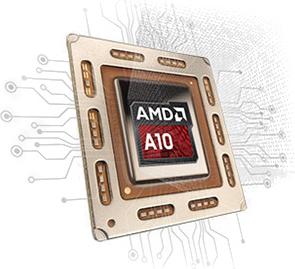 Sunnyvale, California-based AMD on Tuesday posted 2014 revenue of $5.51 billion, up 4 per cent sequentially. The company's net loss for the year was massive $403 million, whereas gross margin totaled 33 per cent.
Computing and Graphics segment revenue was down 16 per cent from 2013, primarily due to lower chipset and desktop processor sales. Enterprise, Embedded and Semi-Custom segment revenue was up 51 per cent from 2013, primarily due to higher semi-custom SoC sales.
Discuss on our Facebook page, HERE.
KitGuru Says: AMD clearly needs to improve sales of its computer chips. At the end of the day, if AMD wants software developers to take advantage of its heterogeneous system architecture and GPU compute capabilities, it needs to ensure that its chips are popular among end-users and PC makers. Unfortunately, AMD's PC market share has been on the decline for years.