Advanced Micro Devices this week demonstrated its next-generation AMD Opteron X-series accelerated processing unit code-named "Berlin" running Fedora Linux operating system. The new APU is projected to significantly boost performance of servers running APUs and bring heterogeneous system architecture (HSA) capabilities to servers.
AMD Opteron X-series "Berlin" APU in many ways resembles the code-named "Kaveri" accelerated processing unit for consumer applications. The "Berlin" features four Steamroller cores (two dual-chip modules), 4MB level two cache (1MB cache per x86 core), AMD Radeon R7 graphics engine with eight GCN compute units (up to 512 stream processors in total), dual-channel DDR3 memory controller with hUMA [heterogeneous unified memory architecture] technology and so on. Just like the consumer APU, AMD Opteron X-series "Berlin" features HSA technology, heterogeneous unified memory architecture (hUMA) and heterogeneous queuing (hQ), which allows software applications to use both x86 and graphics compute cores at the same time and very efficiently. According to AMD, its Kaveri APUs can run up to 12 separate processes simultaneously thanks to the fact that it has twelve compute cores.
But the Opteron X-series "Berlin" APU has a number of substantial differences when compared to the "Kaveri". Unlike the consumer chip, the "Berlin" will be available as a multi-chip-module in BGA [ball-grid array] packaging, which will integrate code-named Bolton SCH [SoC controller hub] that will provide I/O capabilities. Essentially, the "Berlin" will be a system-on-chip, not just an APU.
The AMD Opteron X-series BGA chips can be installed into various servers, including microservers, such as HP's project Moonshot machines. At present such servers utilise AMD Opteron X1250 processors based on Jaguar x86 cores. The "Berlin" with its Steamroller cores will clearly outperform them in all types of applications.
AMD demonstrated its Opteron X-series "Berlin" chips at the Red Hat Summit 2014 trade-show. A system based on the microprocessor was running a Linux environment based on the Fedora Project, a community-driven Linux distribution, providing a familiar, enterprise class operating environment to developers and IT administrators. AMD's premiere demonstration of the "Berlin" showcased the world's first HSA featured server APU ahead of its official launch later this year. The demonstration featured advancements incorporated in "Project Sumatra" that enable Java applications to take advantage of graphics processing units (GPUs) within AMD server APUs.
The combination of Linux and Java on AMD APU platforms provides a platform for server-based multimedia workloads and general purpose GPU compute that will help drive new levels of workload efficiency in the data center.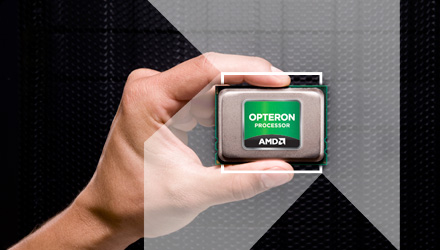 AMD believes that this demonstration represents a significant step forward in expanding the footprint of x86 APU accelerated performance within the data center.
"As servers adapt to new and evolving workloads, it's critical that the software ecosystem support the requirements of these new workloads," said Suresh Gopalakrishnan, corporate vice president and general manager of the server business unit at AMD. "We are actively engaged with a broad set of partners in the data center software community who are bringing to market the software infrastructure to seamlessly enable x86 APU based servers."
Discuss on our Facebook page, HERE.
KitGuru Says: The first public demonstration of an HSA-enabled server is clearly an important step towards bringing heterogeneous computing to datacentres. At present highly-parallel GPUs are only used for high-performance computing, but going forward their advantages will likely be utilised for mainstream server tasks as well. But before it happens, software will have to be redesigned, which will take years…