Advanced Micro Devices plans to introduce four new microprocessors designed for enthusiasts and overclockers on the first of September. Three new AMD FX and one new Athlon X4 central processing units will address PC enthusiasts with different budgets, but will not necessarily offer unbeatable performance.
Next month AMD plans to introduce two all-new AMD FX chips: the FX-8370 and the FX-8370E. The novelties sport four dual-core Piledriver modules (eight cores in total), 4.10GHz/4.30GHz frequencies, 8MB L2 cache, 8MB L3 cache as well as dual-channel DDR3 memory controllers. The FX-8370 features 125W thermal design power, while the FX-8370E's TDP will be 95W. Additionally, AMD plans to introduce a more energy-efficient version of the FX-8320 (eight cores, 3.50GHz/4.0GHz), the FX-8320E, with TDP reduced to 95W. The new chips will cost from $140 to $190 in mass quantities.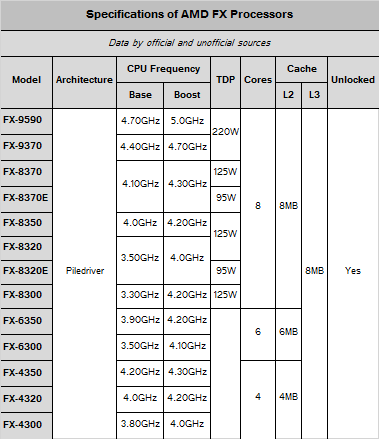 The new FX products are aimed at "mainstream" AMD AM3+ platforms as well as new breed of energy-efficient performance systems that require microprocessors with lowered power consumption. The FX-8370 will not break performance records since there are code-named "Centurion" FX-9590 and FX-9370 chips with even higher clock-rates, but those products are not compatible with a lot of AM3+ mainboards.
In addition to the new FX models, AMD will also unveil its first Athlon X4 chip based on the code-named "Steamroller" micro-architecture ("Kaveri" design with disabled graphics core and some other capabilities) and compatible with the FM2+ platforms. The AMD Athlon X4 860K will feature two dual-core Steamroller modules (four x86 cores in total), 3.70GHz/4.0GHz frequencies with unlocked multiplier, 4MB L2 cache and 95W thermal design power. The new chip will cost around $80 in mass quantities.
The Athlon X4 860K is designed for enthusiasts in budget with FM2+ mainboards. AMD probably wants the chip to compete against Intel Corp.'s Pentium G3258 anniversary edition processor, but it remains to be seen how successful will the Athlon X4 860K be against its dual-core rival based on the Haswell micro-architecture.
The Athlon X4 860K is made using general-purpose 28nm process technology at GlobalFoundries. That technology was not designed to reach extreme clock-rates, but to provide maximum transistor density. Therefore, it will be interesting to see how good will the chip overclock even with its graphics core and some other blocks disabled.
Discuss on our Facebook page, HERE.
KitGuru Says: Although microprocessors from Advanced Micro Devices are not exactly what mainstream performance enthusiasts choose these days, it is nice to see that AMD is not giving up.