ARM Holdings, a leading developer of mobile processors and solutions, on Tuesday introduced its second-generation high-performance 64-bit core based on the ARMv8-A architecture. While ARM has not revealed a lot of details about its new core, it said that it significantly increases performance compared to existing offerings and is the highest-performing general-purpose processing core that can be licensed at present.
The ARM Cortex-A72 is based on ARMv8-A architecture and is designed to run at clock-rates of up to 2.50GHz and beyond when implemented using TSMC's 16nm FinFET+ process technology. The Cortex-A72 core can be integrated into quad-core clusters for modern smartphone or server processors. The A72-based system-on-chips will support all modern ARM technologies, including TrustZone security, NEON advanced SIMD extensions, VFPv4 floating point unit, virtualization as well as backwards compatibility with ARMv7 apps.
According to ARM, the Cortex-A72 is expected to deliver roughly 80 – 90 per cent higher performance than the Cortex-A57 while consuming about the same amount of power, which means that the A72 has higher instructions per clock (IPC) rate and generally more efficient architecture. The company also claims that its new core is also 75 per cent more power efficient than the Cortex-A15 at target process technology, which is not a big surprise.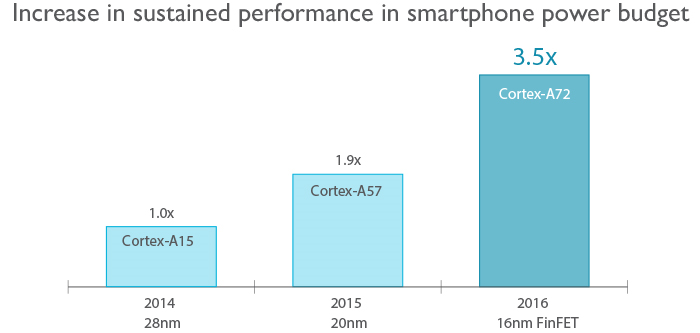 The ARM Cortex-A72 is the new "big" core from ARM that could be installed into Big.Little configurations with ARM Cortex-A53 in order to wed maximum performance and low power consumption for competitive mobile system-on-chips.
Since the Cortex-A72 is based on the ARMv8-A, not the ARMv8.1-A architecture as expected previously, software makers will not have to significantly tune their applications to take advantage of the A72's performance improvements.
"Our new premium mobile experience IP suite with the Cortex-A72 processor delivers a decisive step forward from the compelling user experiences provided by this year's Cortex-A57 based devices," said Pete Hutton, executive vice president and president, products groups, ARM. "For multiple generations, together with our partners, we have delivered the leading-edge of the premium mobile experience. Building on this, in 2016 the ARM ecosystem will deliver even slimmer, lighter, more immersive mobile devices that serve as your primary and only compute platform."
More than ten partners, including HiSilicon, MediaTek and Rockchip, have already licensed the Cortex-A72 processor. The first ARM Cortex-A72 SoCs are expected to emerge in 2016.
Discuss on our Facebook page, HERE.
KitGuru Says: ARM is slowly, but surely increasing performance of it cores, which is particularly important for its server business. It should be noted, though, that the more important improvements will become available along with chips powered by the ARMv8.1-A architecture.