Qualcomm on Monday announced two new high-end application processors for smartphones and tablets. The new chips integrate 64-bit general-purpose cores, new-generation Adreno graphics engines, 2K/4K video processing as well as 4G/LTE Advanced modem that supports 3*20MHz carrier aggregation, enabling speeds of up to 300Mb/s.
The new Qualcomm Snapdragon 808 and 810 system-on-chips will be made using 20nm process technology and will feature ARM Cortex-A57 and Cortex-A53 ARMv8-A cores. In addition, both chips will integrate Qualcomm Technologies' 4th generation Cat 6 LTE Advanced multimode modem that features 3*20MHz Carrier Aggregation, enabling speeds of up to 300Mb/s in the broadest set of spectrum deployment configurations to date.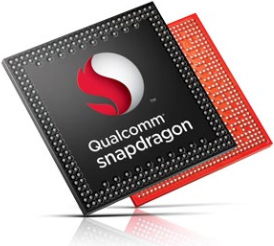 The Snapdragon 810 features four ARM Cortex-A57 and four ARM Cortex-A53 cores, Adreno 430 graphics technology with support of 3840*2160 resolution, LPDDR4 memory controller and so on. The Adreno 430 is designed to deliver up to 30% faster graphics performance and 100% faster GPGPU compute performance, while reducing power consumption by up to 20%, as compared to its predecessor, the Adreno 420 GPU. The chip also features Qualcomm VIVE 2-stream 802.11ac with multi-user MIMO, Bluetooth 4.1, USB 3.0, NFC and the latest Qualcomm IZat location core.
The Snapdragon 808 features two ARM Cortex-A57 cores, four Cortex-A53 cores, the new Adreno 418 graphics processor that supports up to 2560*1600 resolution (4K is supported via HDMI 1.4) and is 20 per cent faster than existing Adreno 330. The chip features LPDDR3 memory controller and similar wireless technologies as the Snapdragon 810 does.
"These product announcements, in combination with the continued development of our next-generation custom 64-bit CPU, will ensure we have a tremendous foundation on which to innovate as we continue to push the boundaries of mobile computing performance in the years to come," said Murthy Renduchintala, executive vice president of Qualcomm Technologies.
The Snapdragon 810 and 808 processors are anticipated to begin sampling in the second half of 2014 and expected to be available in commercial devices by the first half of 2015.
KitGuru Says: While the new chips will clearly deliver very high levels of performance, it is noteworthy that Qualcomm decided to use ARM's Cortex cores, not its own custom cores for next year's high-end chips. It looks like the company's own cores are only due in the second half 2015, two years after Apple introduced its first custom 64-bit ARMv8-compatible cores.