It was a bit disappointing that Samsung Electronics did not reveal its 64-bit application processors for mobile devices at the Mobile World Congress 2014 under its Exynos Infinity initiative. Nonetheless, the company vows that it will introduce its first ARMv8-compatible chips later this year.
Samsung's arch-rival Apple has been selling iPhone 5s and iPad Air based on 64-bit A7 system-on-chip for several months now. While hardly a lot of software for iOS can utilise 64-bit processing capability, many end-users intuitively believe that Apple's 64-bit chips are faster than Samsung's 32-bit chips. Probably, Samsung Exynos 5440 system-on-chip with eight cores that work in Big.Little HMP [heterogeneous multi-processing] configuration (which means that only four high-performance Cortex-A15 cores will work under peak load) can offer higher horsepower than dual-core Apple A7, 64-bit technology still remains very important for Samsung and the industry.
"64-bit is very important in the sense that there is a real demand, whether you need it or not," said Kyushik Hong, vice president of marketing for Samsung's system LSI business, in an interview with Cnet News. "We are very actively working on it."
64-bit chips are important because modern smartphones and tablets process a lot of various data since people want powerful applications and rich multimedia on their mobile gadgets. In addition, 64-bit processors will allow to install more than 4GBs of memory into a device, which is important for Samsung as programs developed for Android operating system are hungry for memory.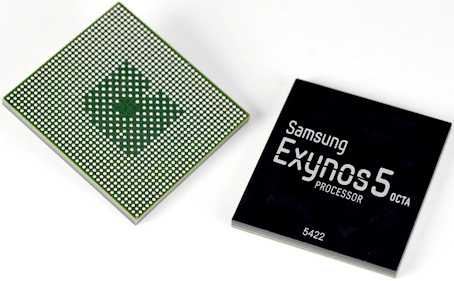 At present the company believes that it will launch its 64-bit chips on time with the first 64-bit version of Google Android. Recently a leading designer of mobile system-on-chips said that the Android would gain 64-bit support sometimes in the third quarter 2014.
"Our chip will be ready whenever the operating systems and ecosystem go 64-bit," said Mr. Hong. "We are pretty sure we are not going to be the bottleneck for that."
KitGuru Says: Looks like the first customers who will buy the all-new Galaxy S5 at launch may get somewhat disappointed in Q3 when Samsung might offer a new version of the smartphone with a 64-bit SoC and 64-bit Android 5.0 operating system.