The Stilt, a famous Finnish overclocker, has managed to boost clock-rate of the yet-unreleased AMD FX-8370 microprocessor to whopping 8722MHz, which is just 72MHz lower than the world's record CPU frequency.
To overclock his eight-core FX-8370 chip to 8.72GHz, The Stilt had to increase the core voltage to 2.064V and used a system featuring Asus Crosshair V Formula-Z mainboard, 8GB of memory operating in dual-channel mode at 2218MHz, Asus Radeon R9 290X Direct CU II graphics card as well as liquid nitrogen cooling. The overclocker managed to boost default clock-rate of the FX-8370 processor (4.10GHz) by more than two times, an extraordinary result.
What is especially important is that The Stilt managed to overclock his FX-8370 central processing unit with all eight cores (four dual-core Piledriver modules) active. By contrast, the record 8794.33MHz frequency was achieved by an FX-8350 chip with only two active cores (one dual-core Piledriver module).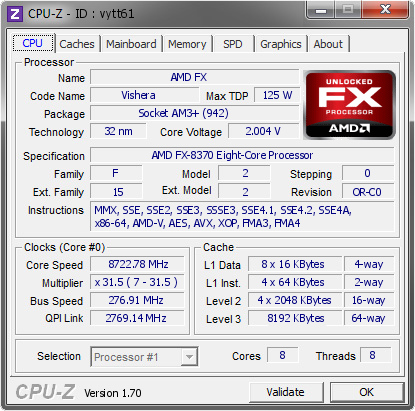 While AMD's FX chips are based on the two years old code-named "Vishera" design, stepping 0, revision OR-C0, it should be noted that GlobalFoundries' 32nm process technology might get a little bit better than it was in 2012. As a result, it is possible that over time chips like the FX-8370 will actually beat the world's record of 8794MHz.
Discuss on our Facebook page, HERE.
KitGuru Says: The overclocking potential of the new AMD FX processors may be an interesting thing to investigate. If newer chips can actually work at higher frequencies without any problems, it may mean that eventually AMD could offer faster FX products even based on the current architecture.