G.Skill said on Friday that its specialists have managed to overclock the company's Ripjaws 4-series DDR4 memory modules to rather whopping 4GHz effective data-rate. While 4004MHz this is not particularly the world's record memory frequency, the achievement shows that the first-generation DDR4 memory modules are rather good for overclocking.
To push a 4GB Ripjaws 4 DDR4 memory module to 4.0GHz, overclockers from G.Skill used a testbed powered by Asus ROG X99 Rampage V Extreme mainboard as well as Intel Core i7-5930K processor cooled by liquid-nitrogen. The frequency of the microprocessor was lowered to 2184.24MHz in order to maximize overclocking potential of its memory controller. The final frequency of the module was 4004.4MHz.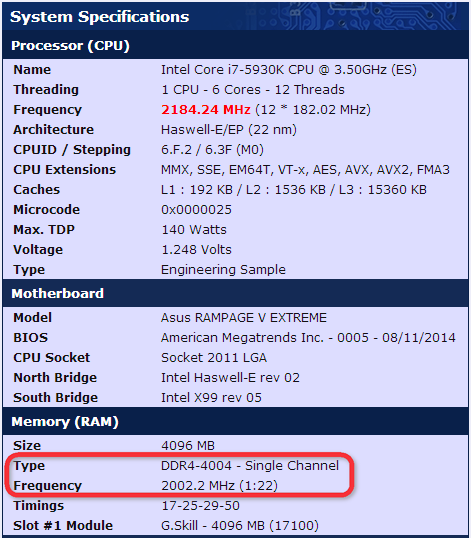 While the overclocking memory in single-channel mode does not have any practical meaning since today's memory sub-systems are dual- or quad-channel, the 4GHz clock-rate demonstrate the potential of the DDR4 in general.
If the very first commercial DDR4 modules can hit 4GHz, imagine what can be expected a couple of years down the road when DRAM makers learn how to make high-speed DDR4 chips, module and mainboard manufacturers develop sophisticated PCB designs for DDR4 and memory controller developers (e.g., Intel, AMD, etc.) realize how to develop advanced controllers.
It is interesting to note that 4266MHz is officially the highest effective data-rate for the DDR4 standard in general. Given the current overclocking result, it is likely that JEDEC, an organization that develops DRAM-related standards, will have to increase the DDR4 goals and extend the the DDR4 roadmap to include higher frequencies.
The world's highest computer memory frequency that has ever been reached is 4.62GHz (4620MHz), according to CPU-Z. DDR4 yet has to hit such clock-rates, but it will clearly do it in the foreseeable future.
Discuss on our Facebook page, HERE.
KitGuru Says: It is tremendously interesting to learn what the world's top overclockers will manage to achieve with DDR4 memory in the coming weeks and months…