New details have come to light on AMD's future Zen 3 and 4 architectures, along with a roadmap providing the timeline and key specifications for its next-generation EPYC Milan and Genoa lines of data centre processors.
During a recent presentation at the HPC-AI Advisory Council Conference in the UK, AMD exposed information on their next-generation EPYC based data centre CPUs built on both Zen 3 and Zen 4 architectures. The presentation was uploaded on YouTube but swiftly taken back down again. However, some key information was snagged before the video was removed.
AMD is currently riding high on its Zen 2 based processors market share in both desktop and server applications. Not resting on its laurels, AMD has already published specification on its next two generations of EPYC cores. Zen 3 based Milan cores will be the first to arrive followed by Zen 4 EPYC silicon codenamed Genoa.
The roadmap presented by AMD outlines the arrival of Zen 3 Milan chips to be entering production in Q3 2020, which means the company are sticking to its plan of providing yearly updates to its architecture. AMD says the chips are already taped out and are being sampled to customers. Milan chips will feature the 7nm process – a refresh of the current node with increased performance.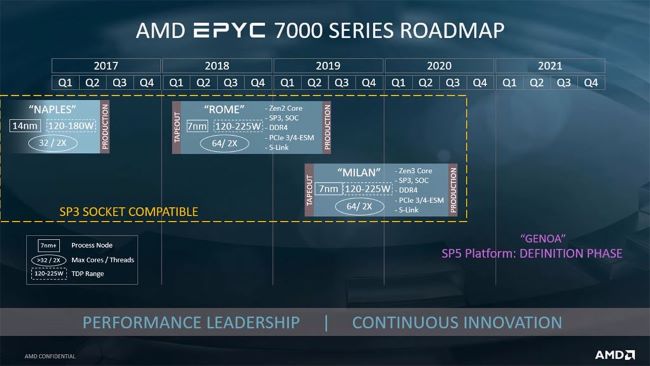 Zen 3 Milan chips will offer the same 64 core maximum as the current generation and be supported by the same SP3 socket type. Milan is set to come with the same 8 channel DDR4 configuration and PCIe 4 compatibility with two threads per core. However, AMD did not share any information about clock frequencies.
As far as Zen 4 goes there were fewer specifics. However, the EPYC Genoa processors look like they will be supporting a new CPU socket called SP5, which means Milan will be the end of the road for socket SP3.  EPYC Genoa will also support for DDR5 memory, which may mean we see DDR5 with Zen 4 based desktop and HEDT Threadripper CPUs at a similar time. AMD also mentioned Genoa will bring new capabilities but didn't go into detail on this.
KitGuru says: Could the new capabilities of EPYC Genoa, that AMD mentioned, mean we see PCIe 5 for the first time on Zen 4? What are your thoughts regarding these new capabilities touted for Zen 4?