Early adopters of AMD Ryzen 3rd generation desktop processors will know only too well that the CPUs didn't quite live up to the official specification regarding boost frequency figures upon launch. New motherboard BIOS updates with AGESA 1.0.0.4 B are aimed at addressing performance and are rolling out now.
Gigabyte has announced it will be rolling out new BIOS updates for AMD X570 based motherboards, in an attempt to unlock more performance from 3rd generation AMD Ryzen processors. Gigabyte's latest F10 BIOS features AGESA 1.0.0.4 B microcode and has been uploaded to the official Gigabyte support pages for users to download.
3rd generation AMD Ryzen processors have offered great multicore performance out of the box since launch. However, AMD has been working closely with motherboard manufacturers to improve performance further. AMD and Gigabyte continue to develop BIOS updates that optimise performance and stability.
The new BIOS updates featuring AGESA 1.0.0.4 B have been rigorously tested and validated to ensure any potential issues have been addressed and ironed out prior to release. BIOS F10 for Gigabyte X570 motherboards will offer an increase of 35% boot speed and bolster the chipset's support for Raven Ridge APUs.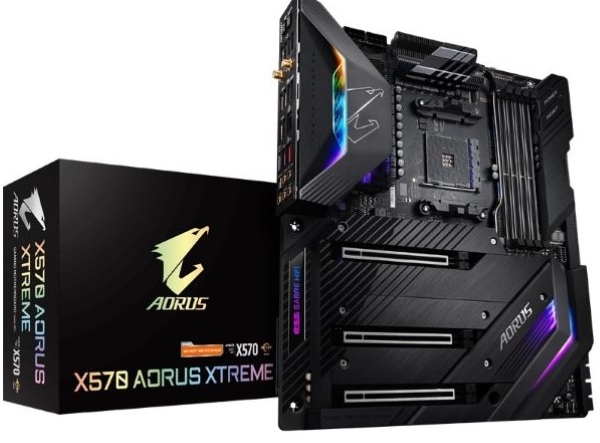 Additionally, the new BIOS will enhance SATA and NVME RAID compatibility for the X570 platform, along with fixing bugs and issues. Gigabyte Q-Flash allows users to update the new BIOS version on all X570 platforms without the need to install a processor, memory or graphics card which makes the process simple – the system doesn't even have to be booted up.
BIOS F10 for Gigabyte X570 is available to download from the official support pages now, with BIOS version F50 for 300/400 series motherboards coming later this month to support previously released Gigabyte motherboards.
Discuss on our Facebook page HERE.
KitGuru says: It is great to see AMD and motherboard manufacturers sticking with the promise of support and updates for older platforms with BIOS updates to improve performance of 3rd generation Ryzen processors, years after initial release.