Due to a recent fall in the price of NAND, the overall cost of SSD manufacture has become a little lower – this means companies are able to provide higher capacity drives at a more competitive price, in budget-friendly ranges.
The BX500 series from Crucial is a popular budget-friendly SSD solution which has been around for about a year. With the price of NAND falling, Crucial has updated the BX500 range with higher capacity 2TB drives to provide consumers with more choice in this price category.
The Crucial BX500 range of affordable SSD storage devices aims to offer consumers a competitively priced alternative to a traditional mechanical hard drive. Crucial's message with the BX500 series is it's "time for computer users to make the transition from hard drives to solid state storage."
"SSD technology is becoming more mainstream than ever and for those who are ready to make the switch to solid state, the Crucial BX500 offers performance and reliability at a competitive price from a brand consumers have grown to trust." said Teresa Kelley, vice president and general manager of Micron's consumer products group.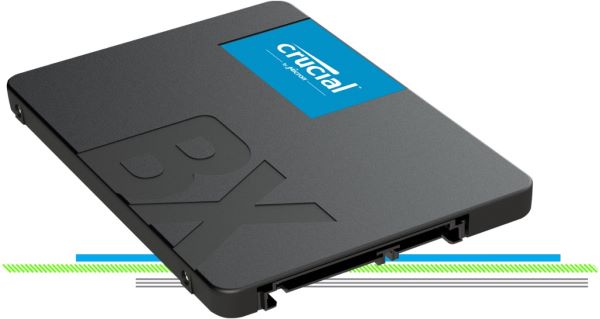 The new 2TB version of the BX500 arrives in 2.5-inch SATA format with a 6GB/s interface. Performance-wise, the 2TB BX500 features read speeds of up to 540 MB/s and 500 MB/s writes. However, information of whether the 2TB BX500 is built with Micron's 64-layer 3D Triple Level Cell (TLC) NAND flash memory chips is not specified.
The Crucial BX500 2TB SSD is set to be priced at $214.99 at launch, which would be in line with other SSD drives of this capacity on the market.
Discuss on our Facebook page HERE.
KitGuru says: While this is not the cheapest SSD on the market, it certainly offers good value. With the price of NAND falling, hopefully, consumers will see the saving in SSD manufacture passed onto them.