While most of the attention from Gigabyte over recent months has been on new motherboards for the 3rd generation AMD Ryzen platform, the company has been quietly working on boards for the upcoming Intel Xeon server platform too.
To coincide with the recent announcement from Intel regarding new Xeon E-2200 entry-level server CPUs, Gigabyte has made new products available for the same platform. The company has announced a range of new motherboards to support the Intel Xeon E-2200 processors, which are ideal for entry-level workstations and server systems.
The Intel Xeon E-2200 is engineered to provide entry-level performance and value to a variety of workloads such as CAD workstations, content creation or entry-level servers. Socket compatibility of the New Xeon CPUs will be the same as previous generation Xeon E-2100 CPUs – the same microarchitecture will be retained too, along with dual-channel DDR4 2666 MHz memory, PCIe Gen 3.0, USB 3.1 and SATA III support.
Gigabyte has four new motherboards on offer that are compatible with the Xeon E-2200 processors that have been optimised for specific workloads and applications. Both the Gigabyte MX32-4L0 and MX32-BS0 are micro ATX form factor, designed for server applications. The boards feature onboard ASPEED AST2500 controllers and dedicated MLAN ports for remote management.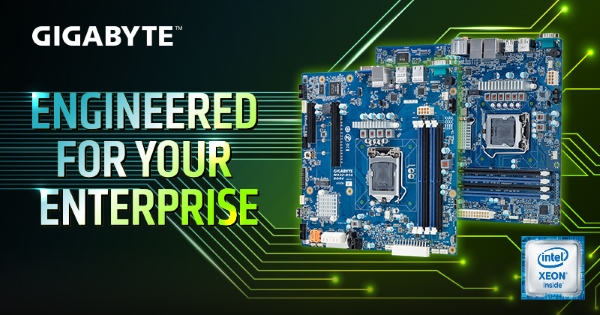 The MX32-4L0 is based on the Intel C246 chipset and features eight onboard SATA III 6GB/s ports, four 1GbE LAN ports and two PCIe Gen 3.0 ports. Meanwhile, the MX32-BS0 is a basic, cost-effective motherboard for general-purpose computing. The MX32-BS0 is based on the Intel C242 chipset which features dual onboard 1GbE Lan ports, six SATA III 6GB/s ports along with two PCIe Gen 3.0 ports. Both MX32 boards also include onboard M.2 ports for NVME storage or Intel Optane devices.
Additionally, Gigabyte has unveiled two more motherboards designed for workstations. The MW32-SP0 is an ATX form factor board which should provide high performance for professional workstations. The MW32-SP0 is based on the Intel C246 chipset and features Intel UHD Graphics P630 integrated iGPU with DisplayPort v1.2 and HDMI v1.4 connectivity, to allow for dual 4K display output.
The M32-SP0 also provides excellent storage options with a total of ten SATA III 6GB/s ports, a SlimSAS port for U.2 storage and M.2 support. Gigabyte has also announced an MW22-SE0 motherboard to provide a cost-effective solution for entry-level workstations, based on the Intel C242 chipset with six SATA III 6GB/s ports, M.2 support and two PCIe Gen 3.0 expansion slots, an Aspeed AST2510 Is included for VGA output along with a Realtek ALC887 audio controller.
Discuss on our Facebook page HERE.
Kitguru says: It seems that Gigabyte has been hard at work to provide a good selection of motherboards covering various scenarios and budgets in time for the Intel's Xeon E-2200 processor release.