Once upon a time, the professional CPU and GPU ranges used to be where the new product generations began. But for some time now you've been more likely to see the first spin of a new silicon design at the consumer end. So although Coffee Lake has been around on consumer platforms for 18 months, it's no surprise that we're still seeing new motherboard releases aimed at the professional Xeon end of the Coffee Lake market, which is likely to remain available for a while even now the 9th generation Intel Core processors have been around since last year. So we have Gigabyte's MW32-SP0, designed for a single-socket Xeon E 2100 series processor.
The MW32-SP0 uses the Socket 1151 configuration, so supports consumer-grade Core i3, Pentium and Celeron processors as well. But its use of the Intel C246 chipset means that its main focus is the Xeon E 2100 series. These are the Xeon spin of Coffee Lake, and are available with up to six cores and a 3.8GHz frequency. This is a dual-channel memory platform, so although there are four DIMM slots you only need to install modules two at a time. The maximum possible is just 64GB, so this is a board aimed at more modest server and workstation applications. But memory speeds up to 2,666MHz are supported, which the higher-end Xeon Silver doesn't.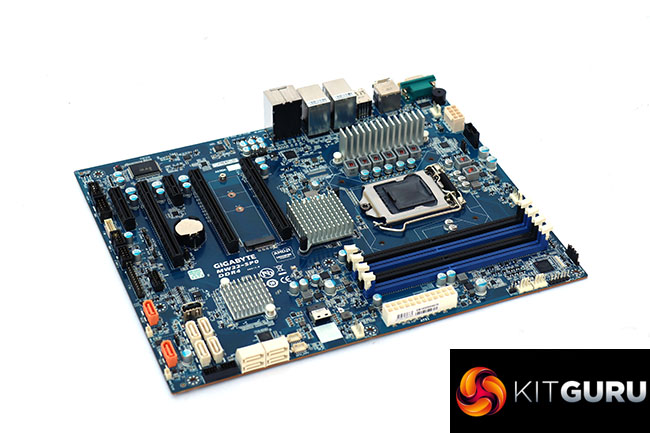 This motherboard also sports three 16x PCI Express slots, although only two can run at 16x, with the other one only offering 8x. You get 4x and 1x PCI Express as well. There are connections for M.2 and U.2 storage, as well as ten SATA devices. You also get two Gigabit LAN ports and four USB 3.1 Gen 2 running at 10Gbits/sec on the backplane, so there are lots of options for high-performance connectivity. On paper, then, this is a very flexible motherboard that has potential for systems that major on storage, or potentially also entry-level workstations.
The Gigabyte MW32-SP0 isn't in retail just yet, and may not be as it's aimed more at system integrators than end users. Gigabyte has told us the estimated price will be around $410, which would be a little steep for an enthusiast board, but for a server-oriented Xeon-supporting model it's fairly reasonable. So let's take a look at where this motherboard's strengths lie and which kinds of applications it's best suited to.
Features:
Intel Xeon E 2100 Series and 8th Generation Core i3/Pentium/Celeron processors
Dual-channel memory up to 64GB DDR4 2,666MHz ECC
4 x DIMM slots
3 x PCI Express x16 slots (2 at x16, 1 at x8); 1 x PCI Express x4 slot; 1 x PCI Express x1 slot
2 x Gbit LAN
10 x SATA III 6Gbits/sec ports
1 x M.2 NVMe PCI Express Gen3 x4; 1 x U.2 PCI Express Gen3 x4
4 x USB 3.1 Gen2 Type A (rear), 2 x USB 3.1 Gen 1 (via header), 2 x USB 3.0 (rear), 6 x USB 2.0 (2 x rear, 2 x via header), 2 x LAN, HDMI, DisplayPort, 6 x audio, 1 x COM port
Supports: Microsoft Windows 10 (x64)
Price for this motherboard (estimated): $410
Be sure to check out our sponsors store EKWB here