The beta version for the latest AMD AGESA update for the Ryzen 3000, released by ASRock, is improving the boost clock across all cores. At the same time, MSI made the 1.0.0.4 patch for the X570 motherboards available, claiming improvements for boot times.
As we've previously reported, MSI stated that the next AMD AGESA microcode update would come with over 100 improvements and fixes. Back then, there was not much about what these improvements and fixes would be or would do, but there are now some hands-on test reports showing performance improvements.
ComputerBase had the chance to test the recently released Beta version of the AMD AGESA 1.0.0.4 for the ASRock X570 Taichi, the X470 Taichi, the X370 Taichi, and the X570 Phantom Gaming X. With these tests there was an improvement of 80MHz on the all-core clock speed, from 4245MHz to 4325MHz, using an ASROCK X470 Taichi paired with Ryzen 3800X. The clock comparison was made by siding the AGESA 1.0.0.3ABBA (4245MHz) and AGESA 1.0.0.4 (4325MHz). Although the stable all-core clock improved, the peak clock of 4550MHz was the same between both AGESA versions.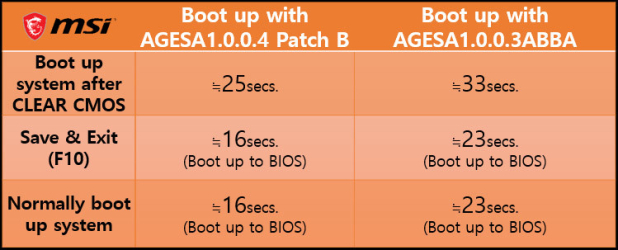 Another improvement that's coming with the new AGESA 1.0.0.4 is the faster boot times, as MSI claims and HKEPC tested. As the table above and HKEPC's video shows, the boot times are improved by over 20% in three different test scenarios. The system specifications for this test were an MSI MEG X570 GODLIKE with Ryzen5 3600 and 2×8GB memory. This update will come later, in November, for the X470 and X370 motherboards.
Asus has the AGESA 1.0.0.4 available for the X570 Strix-series, but there were no tests reported.
These updates from ASUS, ASRock and MSI, don't include the latest System Management Unit (SMU) firmware 46.54.xx or above, so it's advised to wait for a new version that has it.
KitGuru says: Continuous update delivery shows that AMD wants to fix the early Ryzen 3000 problems. These updates are always welcome performance boosts, but there's that lingering thought that Ryzen 3000 should have been released with these improvements already in place. Do you think that Ryzen 3000 should have been released later, or was it good enough at launch? Will you update your BIOS with the upcoming AGESA 1.0.0.4?