We are possibly only days away from the latest generation of high-end desktop processor wars between AMD and Intel. Until now, AMD has been rather quiet about information and specification of its new 3rd generation Ryzen Threadripper platform, although we expect some official details very soon.
There has been a number of official images and product releases showcasing new motherboards for Intel's upcoming HEDT X299 based processors. However, we have not seen anything official and very little in the way of leaks regarding what AMD will offer for 3rd generation Ryzen Threadripper platform. Gigabyte did release a teaser on Twitter a couple of weeks ago but other than that, it has been very quiet.
Rumours suggest AMD will officially announce its next-generation Ryzen Threadripper in the coming days with motherboard manufacturers expected to launch new products for TRX40 at the same time. However, the guys over at Videocardz have released an image of what they believe is the first picture of retail packaging from the Gigabyte TRX40 Aorus Extreme motherboard.
The new HEDT platform to support 3rd Generation AMD Ryzen Threadripper CPUs is expected to feature a new socket called sTRX4, which seems to be confirmed by the image of the new gigabyte motherboard packaging. Gigabyte also teased us on Twitter again yesterday with images of something new coming our way.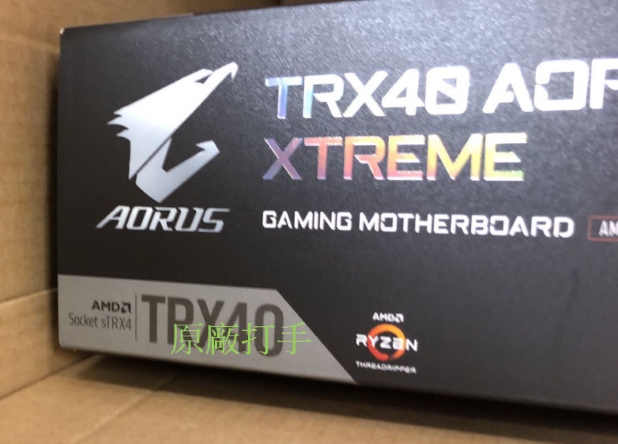 It seems like ASrock are getting in on the act too, after a leaked image of what is expected to be the company's TRX40 Taichi motherboard popped up on the momomo_us  Twitter feed, although the image was very low resolution. However, Videocardz has added some extra pixels to the image to give us a better look. At the moment the only known TRX40 motherboards from ASRock are the Taichi and the TRX40 creator.
For now, this is all we know – we expect more information regarding 3rd generation AMD Ryzen Threadripper in the coming days though.
Discuss on our Facebook page HERE.
KitGuru says: Gigabyte have certainly built up the hype for the next generation of high-end desktop CPUs. Personally, I am really looking forward to seeing how it all pans out. Who do you think will come out on top in HEDT performance in the new generation of CPUs from Intel and AMD?