It looks like the first consumer desktop motherboard from Gigabyte to support AMD Threadripper 3000 has been revealed after an image was posted online over the weekend.
The dark and grainy image shows what is expected to be the first motherboard from Gigabyte's Aorus gaming line to support the rumoured 64-core HEDT Threadripper 3000 CPU. An image was spotted by the guys over the VideoCardz during the weekend and according to them, the branding indicates we are looking at a premium Aorus product.
On closer inspection of the leaked image, we can clearly see the CPU socket looks identical to the previous TR4 Threadripper design, according to rumour it is likely to be socket TR+ or TR4+. However, there is no confirmation regarding socket naming yet, or even on backwards compatibility of older motherboards. Hopefully, AMD will continue their tradition of supporting older products with Zen 2 based CPUs.
The suggested Aorus TRX40 motherboard looks to be of the E-ATX format, unlike the previous X399 platform which came in the standard ATX form factor. The motherboard features eight memory slots for Quad-channel support and four PCIe x16 slots. Additionally, an extra power connector can be seen in the bottom right-hand corner of the motherboard.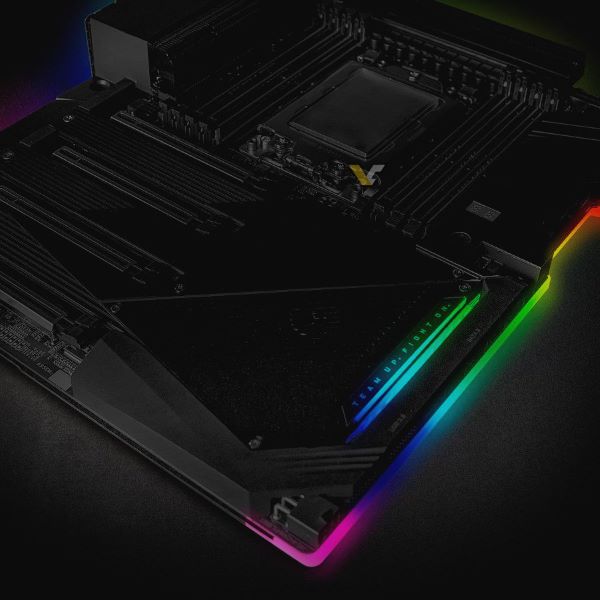 Something else worth noting about the leaked image is the large heatsink covering the VRM. It looks like the excellent Gigabyte Fins array cooling solution will be implemented into the design, which could be an indication of a high TDP coming from Threadripper 3000, rumoured to be up to 280W. A large heatsink covers the chipset and looks like it has integrated active cooling.
At this point, an official date for AMD Threadripper 3000 release is still to be confirmed. However, recent rumours suggest AMD will have a full reveal of the new Zen 2 based Threadripper CPUs on 5th November, with the official release of the first two new SKU's expected to be the on 19th.
KitGuru says: AMD Threadripper 3000 rumours keep on coming, further building the hype for the November release. Personally I can't wait for 64-cores on consumer systems, how about you guys?