There's no doubt AMD has been applying pressure to Intel's market share of the CPU segment since the launch of Ryzen. Now, according to a recent leak, Intel wants to disrupt the CPU market by injecting billions of dollars in price cuts and incentives to fight back AMD competition.
Based on information from AdoredTV, Intel is feeling the pressure from its rival AMD in the CPU market segments previously dominated by them – namely the desktop, laptop, and datacenter markets. Add in the lack of maturity of the company's 10nm process node, there's the possibility of a $3 billion injection from their side to keep them competitive.
Even if not official, this information fits the recent price drops in Intel's CPU portfolio and the comparatively low price and recently released Cascade Lake-X CPUs.
Back in 2001, AMD filed a complaint to the European Commission. This complaint was directed to Intel for their illegal practices to prevent their customers from choosing AMD chips. This same complaint was only upheld later in 2009, declaring that Intel was guilty of that same illegal practices. These illegal practices that they were accused of were "Conditional rebates and payments" and "Payments to prevent sales of specific rival products". This means that Intel applied their money to impose dominance previously, even if doing so was illegal.
Later in 2016, in AMD's 10-K form, AMD referenced the possibility that Intel might do something similar to what the rumour claims and how it affected AMD in the past. So there's the possibility AMD is still expecting this.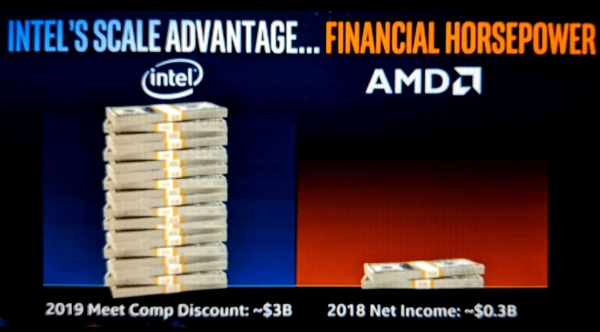 Image credit: AdoredTV
Based on this leak, the $3 billion to be invested, called '2019 Meet Comp Discount', is 10x times the net income from AMD in 2018, being it around $0.3 billion. This investment together with AMD's diminished CPU availability for some models might cause a stir on the CPU market.
KitGuru says: If this information is correct, we may be about to see some serious price cuts on Intel's CPUs. Do you agree with Intel's course of action?