Intel's upcoming refresh of its CPU line up, currently codenamed Kaby Lake, will only work with Windows 10 PCs and will not function on the likes of Windows 7 or 8.1. That means if you want to stick to those older versions of the Microsoft OS, you better avoid buying a brand new system as of next year – or opt for Linux instead.
"This enables us to focus on deep integration between Windows and the silicon, while maintaining maximum reliability and compatibility with previous generations of platform and silicon," a Microsoft spokesperson said in a statement to PCWorld. Even though this means leaving some users behind, Microsoft put the pressure on to help move forward with new features and it appears to have worked.
Of course while Intel's hardware may not support older versions of Windows, there's nothing stopping you from using an alternative operating system like a Linux distro, or OS X, but many people see this as Microsoft restricting the freedoms of a platform that is characterised by its ability to customise.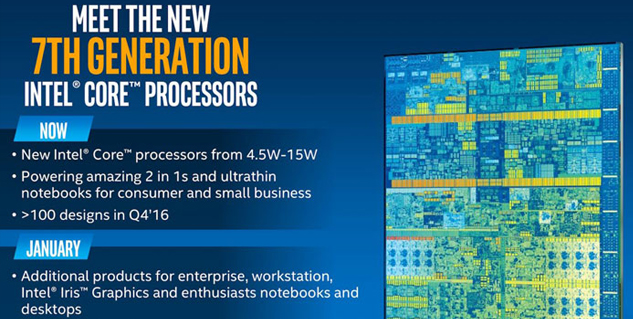 It gets worse for those still running older operating systems, as Intel isn't the only company that's felt the pressure. Kaby Lake won't work with older versions of Windows and neither will AMD's upcoming Zen architecture. Qualcomm has been affected too, with its 8996 chips unable to operate outside of Windows 10's environment.
None of the company's appears bitter – at least publicly – about the move. Anyone contacted for statements claims to be committed to supporting Microsoft in its goal to move the PC ecosystem forward, rather than continuing to support antiquated operating systems.
The question at this point though, is what happens if you ignore this warning? Presumably the system would boot, though without supporting drivers and patches, the system would be unlikely to run well – or at all in certain instances. This could open up a possibility of third parties providing such support though.
We could also see system manufacturers buy up big stock of Skylake parts now, in order to continue offering new systems with Windows 7 and 8.1 installed.
Discuss on our Facebook page, HERE.
KitGuru Says: Would you trust third party drivers to help your system run older versions of Windows on brand new hardware?