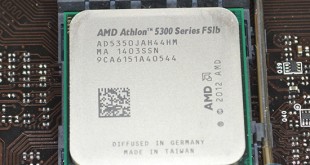 The gaming and enthusiast audiences love their big, quick, expensive powerhouse machines – there's no denying that. But the reality is that many users – about 38% of the market, in fact – in a wide span of geographical regions simply cannot afford or justify the latest-and-greatest in both CPU and GPU hardware. That's where AMD's Kabini APUs come into the picture. Shipping in up to 2.05GHz quad-core flavours and leveraging the GPU power of AMD's Radeon R3 graphics, can the Athlon and Sempron – Kabini – APUs prove that respectable performance is available for a sub-£40 fee?

Kabini has seen action in the mobile scene for a good deal of time, but AMD realised the requirement for the APUs to make an appearance on the desktop side of the divide. Entry-level chips in the desktop arena are not difficult to come by; Intel has its Bay Trail CPUs. But many of the current low-cost options share a common shortfall – the inability to be upgraded.
It's socketed 28nm Kabini where AMD aims to hit hard. Forming the AM1 platform, backed by socket FS1b motherboards, Kabini APUs give users in the entry-level scene an opportunity to buy cheap and upgrade later. And when we say 'cheap', we mean sub-£25 cheap.
Hitting retail at less than £40, and with motherboards available for under £25, does AMD have a gem in the value department with its Kabini APUs and AM1 platform?