Cinebench
Cinebench is an application which renders a photorealistic 3D scene to benchmark a computer's rendering performance, on one CPU core, all CPU cores or using the GPU. We run the test using the all-core CPU and single-thread CPU modes.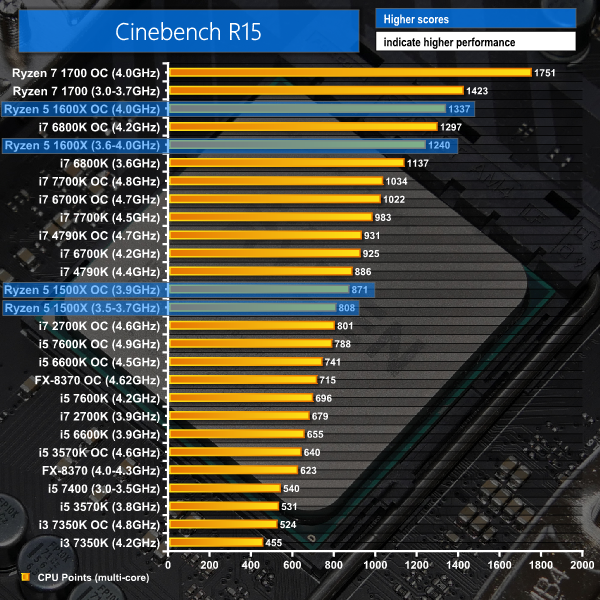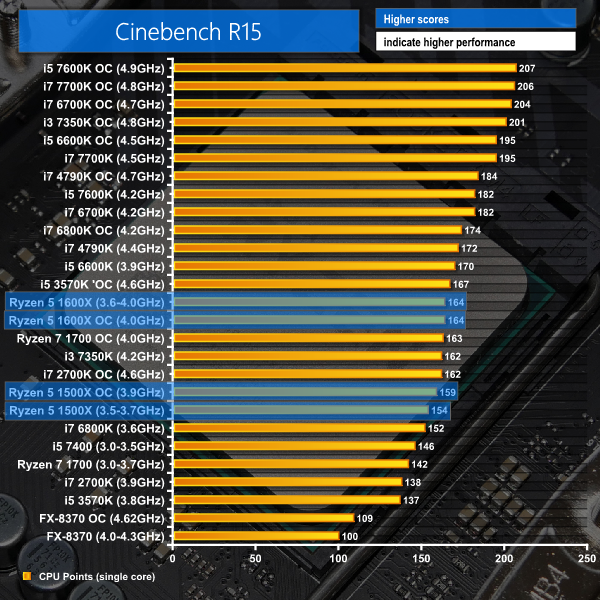 Handbrake Conversion
Handbrake is a free and open-source video transcoding tool that can be used to convert video files between different codecs, formats and resolutions. We measured the average frame rate achieved for a task of converting a 6.27GB 4K video using the Normal Profile setting and MP4 container. The test stresses all CPU cores to 100% and shows an affinity for memory bandwidth.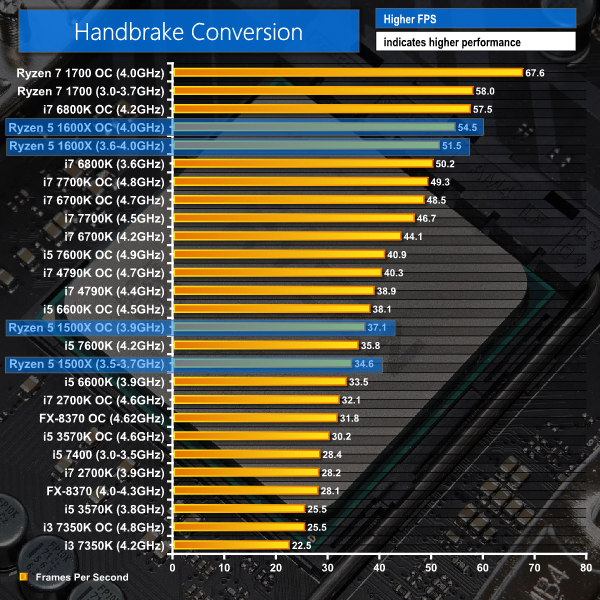 x265 Encoding

x265 Encoding tests system performance by encoding a 1080p test file using the x265/HEVC format.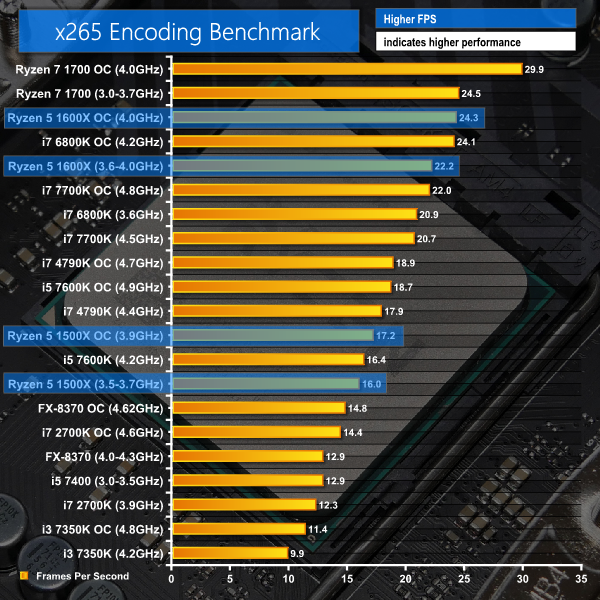 CPU-related testing overview:
Ryzen 5's fastest quad-core chip makes a strong start in the Cinebench multi-threaded test. The 4C8T AMD part can hang with fan favourites of Core i7 days gone by – the Sandy Bridge 2700K and Devil's Canyon 4790K. Compared to the similarly-priced i5-7400, Ryzen 5 1500X is 50% faster out-of-the-box. An ability to overclock the Ryzen chip allows its lead to grow to 61%. Even the fast, multiplier-unlocked Core i5-7600K is outclassed by AMD's 4C8T 1500X.
Single-threaded performance is where Intel's well-tuned and fast Kaby Lake chips can guarantee victories. Or so one would have thought. The low clock speed of the i5-7400 sees it sitting in the bottom half of our performance hierarchy. Combine that with 200MHz of XFR headroom that boosts the 1500X to 3.9GHz on a single thread, and it is easy to see why AMD's part takes the win this time. Compared to the multiplier-locked i5, Ryzen 5 1500X is 5% faster at stock and 9% faster when overclocked.
Handbrake is effective in leveraging the Ryzen 5 1500X processor's eight threads. As such, the 4C4T Intel Core i5-7400 is handsomely outperformed to the tune of 21% at stock and 31% with AMD's part overclocked. Ryzen 5 1500X is close to the performance levels of a Core i5-7600K, though Intel's chip pulls ahead when its clock frequency is boosted to a lofty 4.9GHz.
Ryzen 5 1500X hands the Core i5-7400 another beating by way of the x265 encoding benchmark. AMD's quad-core with SMT is 24% faster than the i5-7400 at stock. The 1500X's lead grows to 33% when it is overclocked to 3.9GHz. Again, the 4C8T 1500X sits close to Core i5-7600K performance until that Kaby Lake chip turns on the afterburners and clocks to 4.9GHz.