7-Zip
7-Zip is an open source Windows utility for manipulating archives. We measure the Total Rating performance using the built-in benchmark tool. The test stresses all CPU cores to 100% and shows an affinity for memory bandwidth.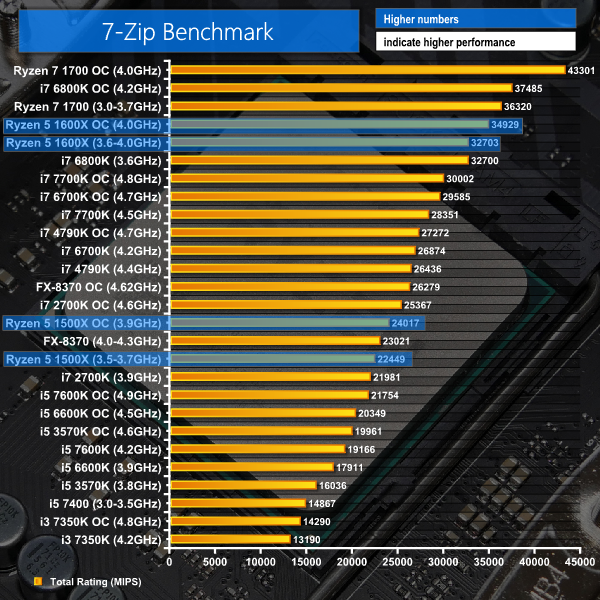 Mozilla Kraken

Mozilla Kraken is a browser-based JavaScript benchmark that tests a variety of real-world use cases. We use Chrome as the test browser. The test exhibits very little multi-threading and shows an affinity for CPU clock speed and IPC.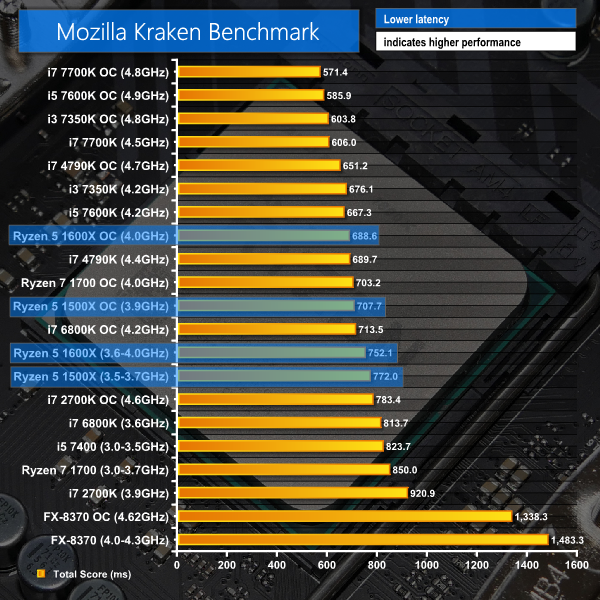 WPrime

WPrime is a leading multithreaded benchmark for x86 processors that tests your processor performance by calculating square roots with a recursive call of Newton's method for estimating functions. We use the 1024M test in WPrime to analyse processor calculation performance.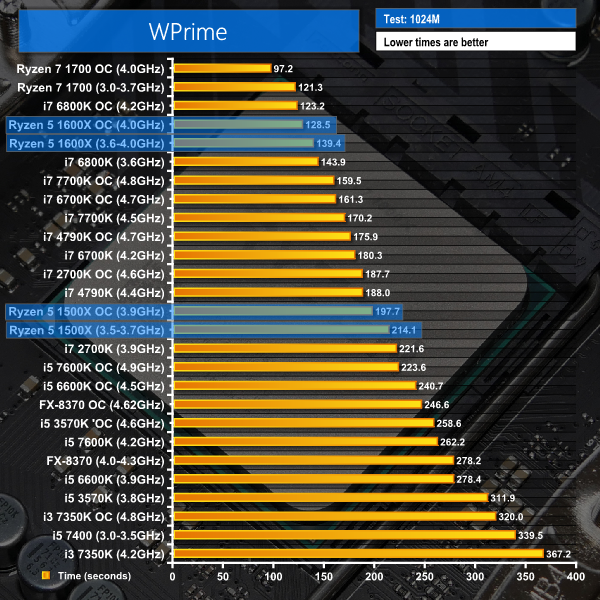 CPU-related testing overview:
7-Zip leverages all eight of the Ryzen 5 1500X's processing threads to return a handsome lead over the 4C4T i5-7400. At stock, Ryzen 5 1500X is 51% faster than the multiplier-locked Intel competitor. The lead grows to 62% when the 1500X is pushed to 3.9GHz. You get 7600K-beating performance from the 1500X in this program.
Kraken is largely single-threaded which puts the emphasis on IPC performance and clock frequency. That latter point hamstrings the Core i5-7400 and sees Ryzen 5 1500X posting superior performance numbers. Overclocking helps to put the 1500X in 4.2GHz i7-6800K territory, which is a bold result. Shining a light on the Core i3-7350K shows it to be a very strong contender at this price point in a test where frequency on a fast architecture is critical.
WPrime posts positive 1500X numbers thanks to its strong multi-threaded capabilities. All of Intel's Kaby Lake Core i5 processors are outperformed by Ryzen 5 1500X. That's before an overclock to the AMD chip even enters the equation.