Grand Theft Auto V

Grand Theft Auto V remains an immensely popular game for PC gamers and as such retains its place in our test suite. The well-designed game engine is capable of providing heavy stress to a number of system components, including the GPU, CPU, and Memory, and can highlight performance differences between motherboards.

We run the built-in benchmark using a 1080p resolution and generally Maximum quality settings (including Advanced Graphics).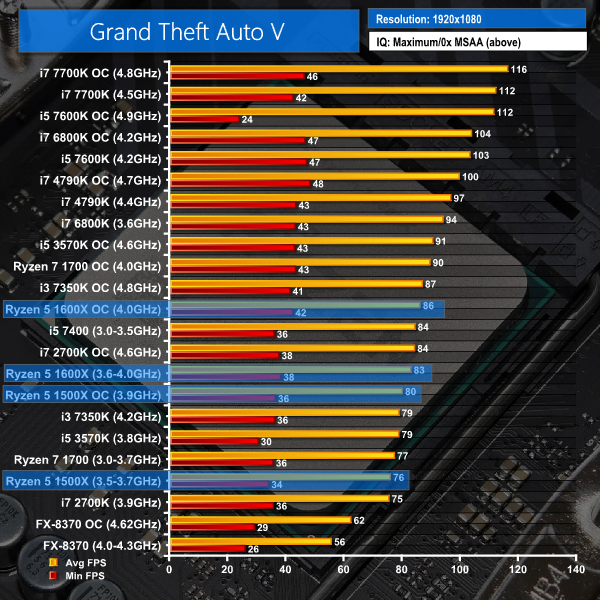 Metro: Last Light Redux

Despite its age, Metro: Last Light Redux remains a punishing title for modern computer hardware. We use the game's built-in benchmark with quality set to Very High, SSAA enabled, AF 16X, and High tessellation.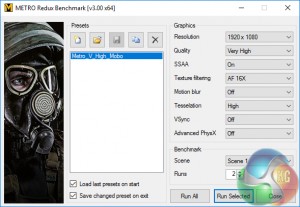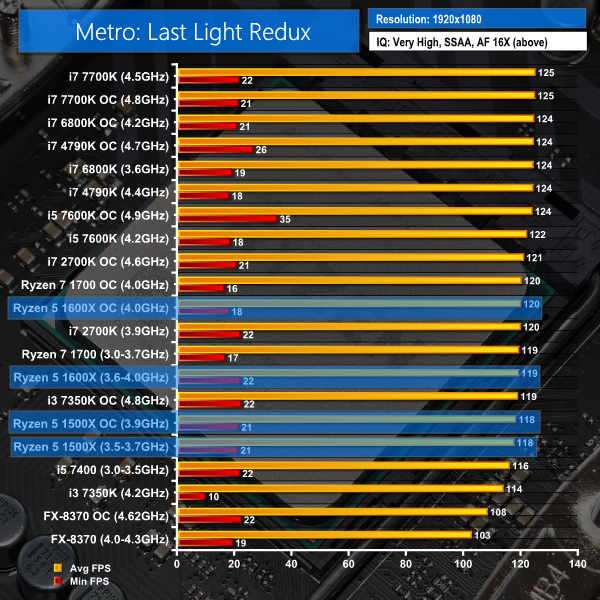 The Witcher 3: Wild Hunt

The Witcher 3 is a free-roaming game which can feature heavy interaction from NPCs in densely-populated urban areas, making it ideal for testing CPU performance. The well-designed game engine is capable of providing heavy stress to a number of system components and will happily use more than four CPU threads when such hardware is available.
We run a custom benchmark which is located in a heavily populated section of an urban town area. A 1080p resolution and Maximum quality settings are used (Nvidia Hairworks settings are disabled).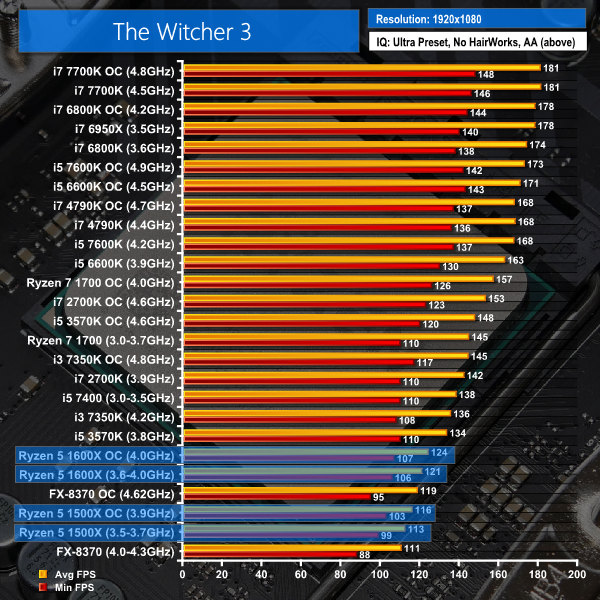 Grand Theft Auto V favours Intel hardware, despite its desire for high thread counts and core frequencies. The Ryzen 5 1500X is outperformed by the 4C4T i5-7400. It takes an overclock to 3.9GHz for Ryzen 5's fastest quad-core to close the performance deficit to 5% against the i5-7400. Utilisation of the eight-thread Ryzen 5 hovered around 60% for this benchmark. The first core was loaded close to 70-80%, given the DX11 API for GTA V. There are spare CPU cycles for completing other tasks with the Ryzen 5 1500X. By comparison, the Core i5-7400 was pinned close to 100% usage for its higher frame rate.
Metro: Last Light Redux shows Ryzen 5 1500X to be a perfectly adequate processor in GPU-bound gaming. The i5-7400 is a little slower than Ryzen due to its clock frequency disadvantage. However, the difference between 118 FPS and 116 FPS average is negligible.
Performance in The Witcher 3 is not good for the 1500X. That point is on a comparative basis as we'd assume that most people will not complain about a 110+ FPS average frame rate and minimums around the 100 FPS mark. Nevertheless, the 4C8T chip takes its place close to the bottom of the chart and is outperformed by the Core i5-7400, which is 22% faster on average, at stock. CPU usage for the 1500X sat around 60% for our custom benchmark run.